LSA BA3 Digital Heritage Studio: Ideas for the Cathedral Vicinity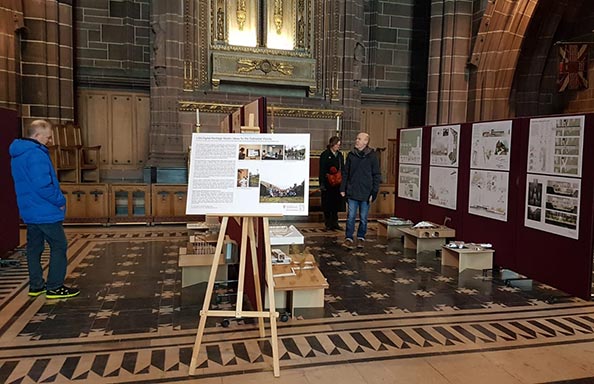 An exhibition is currently on display (3rd – 22nd March 2020) at Liverpool Cathedral showing a selection of outputs from our third year undergraduate Digital Heritage Studio, where students are encouraged to engage with significant heritage assets, in this case Liverpool Cathedral, and produce new design interventions alongside or linked to them. The Digital Heritage Studio was established at the University of Liverpool by Dr Ataa Alsalloum, who researches heritage-led sustainable urban regeneration (see www.archiam.co.uk), and Dr Nick Webb, who investigates the use of digital tools to enhance understanding of historic architecture (see www.tracingthepast.org.uk). This results in research-led teaching, where students produce design projects aided by advanced digital tools, with particular knowledge of the challenges of designing in a heritage context.
Working alongside the current cathedral architect, Mike Darwell, students were first asked to create a strategy taking into account the constraints and opportunities of designing within the cathedral vicinity, and to identify possible sites and functions for new interventions. Students were encouraged to make the visitor experience central to their response, and their design outcomes were required to respect the cathedral's main function as a place of worship and maintain its significance as a heritage asset. Ideas ranged from a new refectory, new visitor entrance, market stalls and museum spaces. Sites included bridges across the cemetery, sloping schemes connecting the cemetery to the cathedral and/or surrounding streets, new connections between the cathedral's east end and St James's Mount, interventions on the existing car park to the cathedral's west, as well as schemes addressing the Oratory.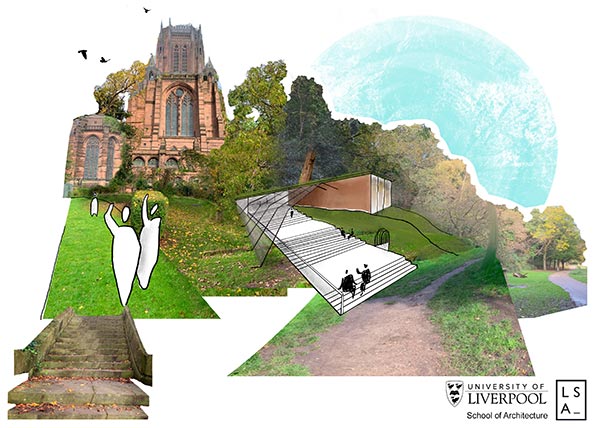 The tutor team in LSA's Digital Heritage Studio consists of Ataa Alsalloum, Stephen Graham, David Raynor and Nick Webb. We received invaluable input throughout the project from Mike Darwell and Dearbhail Keating of John Coward Architects, and our aim is to continue fostering links with the cathedral in future. Most importantly, the dedication and hard work of all the students in the studio made this exhibition possible, and acts as inspiration should the cathedral decide to make design interventions in the coming years.