Congratulations to Professor Iain Jackson on his Inaugural Lecture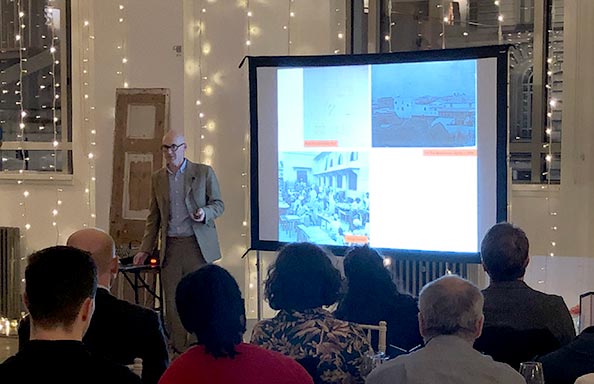 Professor Iain Jackson gave his inaugural lecture on 25 November 2019 at Oh Me Oh My in West Africa House, Liverpool. This historic, waterfront venue complemented Iain's research into what architecture has to tell us about a country's history.
Taking Ghana in the period from colonial rule to independence, Iain gave careful consideration of how political movements in 20th century West Africa influenced the architecture of its towns and cities. He navigated the development of Accra's Jamestown and its mercantile past, before examining the pioneering Modernist designs which expressed the political freedom and new beginnings sought by the newly liberated nation. Through the designs of Edwin Maxwell Fry, Jane B. Drew and others, he showed how architects responded to this dynamic context to design a climatically suitable, appropriately modern and socially progressive architecture along the coast and inland.
Iain's talk was superbly illustrated throughout with images drawn from his own field trips and archival documents he has found in the University's own Special Collections and Archives and the Unilever Art, Archives and Records Management. The lecture concluded with an lively Question & Answer session with the audience.
The Architecture of Edwin Maxwell Fry and Jane Drew: Twentieth Century Architecture, Pioneer Modernism and the Tropics (2016) by Iain Jackson and Jessica Holland is published by Ashgate Studies in Architecture.