Students recognised for academic achievement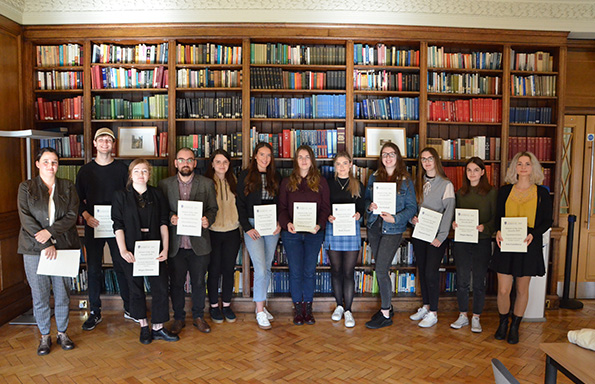 Continuing students from the School of the Arts have picked up prizes for academic achievement at a special event.
Each year, the School presents a number of awards to students who have demonstrated outstanding performance on a particular module or across their year group.
This year, 13 prizes were awarded, with the winning students invited to attend a dedicated event in the School of the Arts Library.
Dean of the School, Professor Peter Buse, commented: "I was delighted to be able to meet and congratulate in person the top-achieving students in the School of the Arts. It is the first time we have honoured students in this way, and I'm keen that we continue to do so in the future".
Congratulations to all of this year's winners!
School of the Arts Academic Achievement Awards
Awarded to undergraduate students at the completion of their first year of study
Rebecca Ferns (English)
Sarah Bresnahan (English)
Matthew Humphries (Music)
Ema Gazdikova (Music)
Megan Marlow (Philosophy)
School of the Arts Academic Achievement Awards – Architecture
Awarded for outstanding academic achievement in the first year of undergraduate study
Hannah Payne (Architecture)
Ella Mulhall (Architecture)
Edward Rathbone Prize (University Undergraduate Scholarship)
Awarded to the best Year 2 student in English
Lauren Archer (English)
Kathleen M Irvine Prize
Awarded to the two best essays submitted as part of normal coursework in either Part I or Part II of a degree programme in English in Single, Joint or Combined Honours.
Lauren Archer (English)
Clare Jens (English)
Wasfie Mhabak Prize for Academic Achievement
Awarded for the best essay on Shakespeare at Level 1
Megan Edwards (English)
Edward Rathbone Prize
Special merit in Philosophy
Joshua Hibbert (Philosophy)
The Angus Tilston Prize for Academic Achievement
Awarded to undergraduate student or students at the completion of their first year of study
Molly Russell (Communication & Media)