LSA Team Win Manchester Award Judged By Norman Foster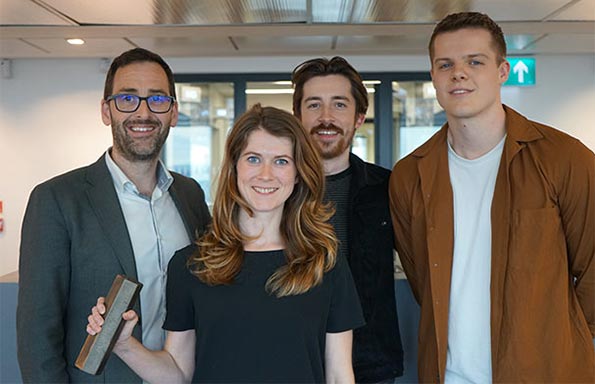 Last week a team of Liverpool graduates won the commercial unbuilt prize at the Manchester Society of Architects annual awards. The young team from Sheppard Robson's Manchester studio were selected by Lord Foster for their proposed City Tower Pavilion, which will overlook the city's Piccadilly Gardens. Working under Sheppard Robson partner James Jones, himself a tutor at LSA, the team were project architect Jasmin Eastwood, masters graduate in 2015, Stuart Pavitt who graduated in 2017 and Matthew Thompson, a current LSA masters student who worked at the practice during his year out.
The City Tower Pavilion takes ideas and inspiration from the "Plug-in City" to support the Client's aspirations to provide additional tenant facilities to City Tower. The tower, originally built in 1965, was once the tallest office in Europe. As workplaces have changed over the past half-century, the needs and aspirations of the tower tenants have evolved in tandem. The Pavilion aims to accommodate 21st century working, by providing a flexible floor space that extends externally to provide a co-working area and space for events.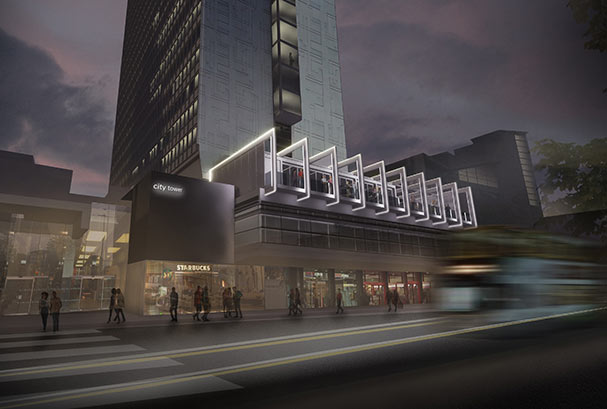 The Pavilion makes use of under-utilised space on the second floor podium level of the Piccadilly Plaza complex. Taking cues from its modernist surroundings and challenging its diminutive scale, the building adopts the repetitive structural language of the neighbouring hotel, where Louis Kahn infamously stayed in 1972. The structure juts proud of the podium to provide street-level presence and ribs of steel encase an uninterrupted internal events space and enclose the external terrace.
The site presents challenges, given its second floor level and location directly above Manchester's busy Piccadilly Bus Interchange. Therefore a combination of pre-fabricated steel elements and modular construction principles have been adopted to minimise the building programme and reduce disruption during construction to the occupants of City Tower above.
It is imagined that throughout the working day, the space will flex to accommodate morning yoga sessions, co-working, informal meetings, conferences and evening functions. These activities have the ability to expand and contract externally (Manchester weather permitting). Fully glazed elevations, composed of 3m square doors, slide to provide the Tower's occupiers with a 180-degree panorama of Piccadilly Gardens and connect the occupants to the buzz of Manchester city centre below.
Award: Medite Smartply Commercial Unbuilt Award
Winner: Sheppard Robson
Project: City Tower Pavilion
Client: Schroders
Location: Piccadilly Gardens, Manchester
Area: 110m2 internal 130m2 external
Construction Value: £1.2M