Sharing stories from James Town: The Creation of Mercantile Accra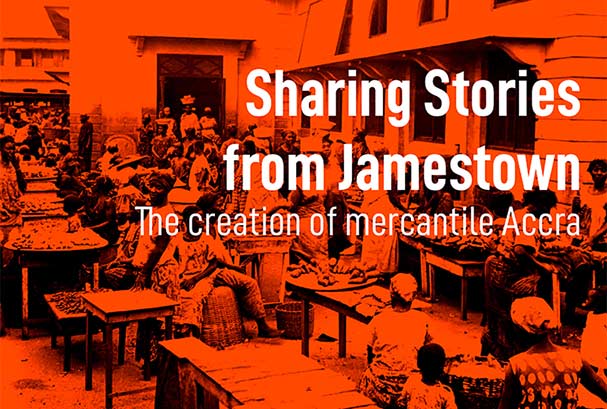 18th May - 13th June 2019 Jamestown Cafe, Usshertown, Accra
The exhibition 'Sharing stories from James Town: The Creation of Mercantile Accra', opens at James Town Café, Accra, Ghana on 17th May 2019. Curated by Iain Jackson, with ArchiAfrika colleagues Joe Osae Addo and Allotey Bruce-Konuah, the displays reveal a rich collection of maps, drawings, photographs and postcards carefully gathered from 15 archives, as well as private collections. Many will be exhibited for the first time, and we're delighted that this important vintage material will be on display in the historic core of the city. The material reveals how Accra has developed and been shaped throughout the 20th century, and through these surviving traces of Accra's varied and often charged architecture and planning, we examine its history, trade, and political ambition.
We're particularly thrilled to be showing large numbers of photographs from the United Africa Company archives (held at Unilever Archives in Port Sunlight) alongside images from Barclays Bank Group Archives and The National Archives collection. We've also taken contemporary photographs of these structures that provide a fascinating 'then and now' glimpse of the city. It might appear that Accra was 'not what it once was', but this is far from the truth. Indeed, Accra is fortunate to possess such an array of important heritage buildings and equally fascinating stories associated with them. A careful and sensitive (re)use of 'heritage' can enhance and increase the value of new projects, creating not only a sense of place and belonging, but also environmentally sustainable solutions. The array of markets, warehouses, villas and compounds is a gift for creative industries, events, recitals, as well as small scale production, manufacturing and enterprise, and we hope this exhibition can provoke and stimulate further interest, research and ambition in this historic core of the city.
The exhibition has been kindly funded by a University of Liverpool Public Engagement Grant, with additional support from University of Liverpool School of the Arts, and a British Academy Internationalisation and Mobility Grant.
The digital exhibition catalogue is available here: https://issuu.com/transnationalarchitecture/docs/sharingstories_accra_2019_jackson