Competition Success for BA2 Students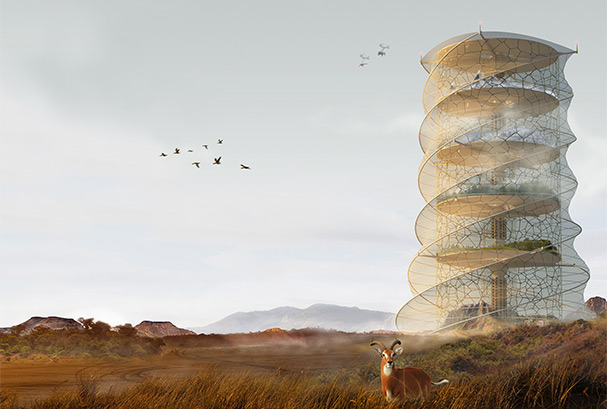 Three BA2 students from the Liverpool School of Architecture, Zijian Wan, Xiaozhi Qi and Yueya Liu, have been awarded third place in eVolo Architecture Magazine's 2019 Skyscraper Competition.
Their subbmission takes the form of a vertical nature reserve combined with research facilities.
Our concept of this vertical nature reserve equipped with a central research station is inspired by the classification of climate groups on earth. Referring to the relationship between latitude and climate zones, the skyscraper divides and simulates each climate group at a different height, while the monitor system locates at the heart of the structure. The residents in the building are endangered animals living within the simulation environment, while the research team and public tourist should be only considered as temporary visitors.
The competition, established in 2006, is awarded annually and seeks to challenge perceptions of vertical architecture and its interactions with both the natural and built environment. The Jury was formed by Melike Altınısık (Founder and design principal Melike Altınısık Architects), Vincent Callebaut (Vincent Callebaut Architectures), Marc Fornes (THEVERYMANY), and Mitchell Joachim (Terreform ONE).
More information on the competition is avaible on the eVollo website.
The competition has also recieved coverage in dezeen magazine, read more here.