David Dunster 1945-2019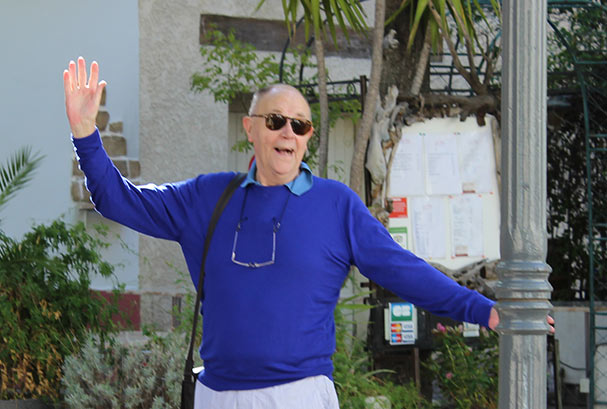 We are saddened to bring the news that David Dunster, who joined the Liverpool School of Architecture as the Roscoe Professor in 1995, and worked in the school until his retirement in 2010, has died earlier this month. David was the Head of School from 1996 until 2000. He taught studio design in both BA and MArch; history and theory; and urban studies. During his time as HoS, he brought numerous high profile critics and guests, from both practice and academia, to the school and created a vibrant teaching environment.
A firm believer that architecture is a team effort, he was instrumental in implementing group work for studio design projects in the MArch programme in the 1990s. This innovative teaching practice is still an important part of the teaching curriculum on the MArch course at Liverpool today.
Having been educated at the Bartlett in the 1960s, David was very knowledgeable on all things architectural and cultural, in particular design and History and Theory of Western European C20 architecture. He was enthusiastic, innovative and supportive as a teacher. Being well travelled, he carried a great library of buildings he had visited in his head. His door was always open and he was generous with his time and to pass on his experience and knowledge to both students and staff.
David was candidly witty and funny. While he took architecture very seriously, he could always see the funny and absurd aspects of it, and of life in general. Sitting on a review panel with him was certainly never boring, as with his dry humour he was always able to be entertaining and to keep everything in perspective. Fools, however, he did not suffer lightly….
David loved art, music, literature and food. Having his own preferences about architecture – he was a great admirer, for example, of Mies, OM Ungers and Aldo Rossi, and had a keen interest in the concept of 'type' – his idea of architecture was also very expansive. He had the ability to place architecture in a broader cultural context, and to see things in a project or a dissertation that no one else had spotted, thus being able to drive a 'stuck' project forward.
When he retired from the university in 2010 he left a hole. Now he will be remembered as a teacher and a friend by numerous former students, many of whom he had kept in touch with, and by those still in the school who knew him.
If you would like to send a tribute to David for the school website please email Martin Winchester on martinw@liverpool.ac.uk
---
Working with David Dunster was always a stimulating experience. He had learned his architecture at the Bartlett and in the offices of James Gowan, Sandy Wilson and Bertrand Goldberg. When at Goldberg's in Chicago he had lived in Mies van der Rohe's Lake Shore Drive apartments, where he met his second wife, Charlotte, herself an architect and IIT trained. Mies was always a mentor: grants from the Graham Foundation and the British Council allowed him to pursue his study, 'Lived-in Mies': two Barcelona chairs and a Barcelona table filled his living room at home. For David, good historical architecture ended with Soane: the ensuing Gothic Revival and the Arts & Crafts Movement were not for him. He was, for his students, a dedicated teacher, always ready with a word of encouragement or advice, and for the profession, a dedicated advocate. He was a member of the Design Review Board at CABE, a member of the Validation Standards Review Committee at ARB and chair of SCHOSA. At the RIBA he chaired of the Research Advisory Panel and was, for ten years, Events Convenor, as well as serving on many boards and committees. His publications, whether as editor, for six years, of Architectural Monographs or as author of the two-volume Key Buildings of the Twentieth Century, were standard reading while his criticisms and commentaries were spread widely across the architectural press from AA Files to the Architects' Journal and Building Design.
After his retirement in 2010 he remained living in Liverpool. Only recently did he and Charlotte return to London, to a small studio flat in the Barbican and the prospect of a newly acquired house in Chalk Farm. But his final illness prevented him completing the move.
Neil Jackson
---
My first encounter with David Dunster was as a young, newly hired architecture lecturer, recently up from Cambridge at the then Liverpool School of Architecture and Engineering. He fired the question "and where would you like to be in the next five years?" I was puzzled but mumbled some reply, which must have passed the grade. From then on I felt that David was a mercurial, but supportive presence during my near five year stay at Liverpool. He both enjoyed being combative but also had a clearly erudite streak to his seemingly irreverent views on all things architectural and indeed sociological. He was a firm believer in there being architectural life outside Europe and supported my taking a team of young second year students on an exchange tour of a lifetime to South Africa only a few years after the nation's independence. Modernism also was a shared interest. I remember him saying to me there are some Dutch guys setting up something called Docomomo it might be interesting you should consider going. He also had links with a team setting up an architecture school in Puerto Rico. I never quite got to Puerto Rico, but now being Docomono Africa lead I have David to thank for this early tip. I will miss David's dry wit and his never ending source of stories and commentaries on all things architectural from his smoke filled room at the Architecture school. He was a supportive, generous and erudite academic and teacher. To Charlotte and Arthur my heartfelt condolences, to Liverpool School of Architecture you have lost a unique, and unforgettable architectural critic and scholar, whom I felt privileged to have met and worked with.
Professor Ola Uduku
Manchester School of Architecture
---
Urban studies, 2nd year in the Autumn of 2003 an early Tuesday morning and in strides a man with presence. Articulate, witty and engaging, we started with "why maps lie" and ended with "the Farnsworth House is one big mother". Those are my first recollections of David, who we undergrads already spoke of in revered hushed tones, thankfully over the years the interactions increased and the reverence developed from one part fear and one part intrigue into respect and a desire to have him understand and back what we were trying to conjure up on the wall ahead of the next crit. His great skill as an educator and as an orator was his ability to bring everyone along with him, even if you disagreed with David, you respected his views and opinions. David was my thesis and dissertation tutor during my BArch studies and over a shared love of Americana we bonded. His poignant observations shaped and cleared my muddy thinking into work that I was and still am proud of. He was free with his time and thoughts, so that we as students were never made to feel unwelcome at his door. He and I spoke not nearly enough after graduation but kept in touch fleetingly after I secured work in London (with his help, to my immense gratitude). His last email was recommendations of eateries in Chicago, where he went "to remember what steak should taste like". His guidance, wit and intellect will be missed sorely by everyone that graced his study overlooking the crossing on to Abercrombie Square and my sincerest condolences go out to Charlotte and Arthur.
Paul Jones
Senior Architect, Allford Hall Monaghan Morris
---
David was a fantastic lecturer, teacher, and critic. He had a gift to command your full attention and entertain through topics that would seem dry if delivered by those less capable. There was never a dull moment when he was present. He was a truly unique character with an unmistakable glint of mischief in his eyes. It was great fun to watch and listen to David in a debate, he had a keen ability to cut through a discussion and bring focus to the controversy within it. He had a level of intellect to which we could only aspire. To a student like myself at the time, it seemed he could argue black was white, convince you it was, win the argument, reverse his position, and win all over again. As such, when David arrived to review your work there was a certain level of trepidation which invariably dissipated as he put you on the right track.
He seemed to know everyone and everything. We benefited greatly from his knowledge, insight and talent, we were lucky. My sincerest condolences to his family, friends and colleagues. He will be missed.
John Milligan
Director, Milligan Knight Architects
---