North West Timber Trading Association Prize Giving 2018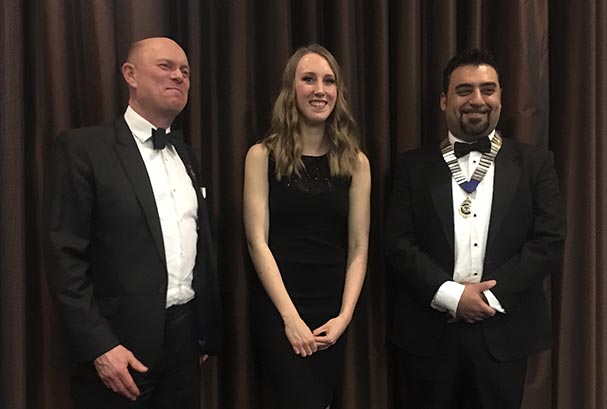 2018 is the fourth year that North West Timber Trading Association have generously sponsored a student Architect prize at the University of Liverpool for the 'most Innovative use of Timber' within their third year Studio project. The Liverpool School of Architecture is proud of its relationship with the NWTTTA and looks forward to building on this in the future.
This year's 1st Place winner was Rhiannon Williams with her project 'Brewlam'. Rhiannon's was one of ten projects shortlisted from the 180 BA3 Architecture student cohort. In second place was Lauren Greensill with Paws in the Park and third place Kate Johnstone with 'Connecting Tate'.
Rhiannon' s prize of £500 was presented on Friday at the NWTTA annual gala dinner at the Crowne Plaza Hotel Liverpool. Rhiannon attended with her Tutor and Studio Lead Mr Richard Dod and Ms Sandy Britton who has worked closely with NWTTA to maintain this productive partnership.
The prize this year has been kindly sponsored by the W Howard Group and supported by Mr Ben Callas president of NWTTA .
The ten shortlisted students are to travel to Lockerbie Sawmill, Dumfries Scotland courtesy of timber processing group James Jones and Sons.
Read more about the event at the Timber Trades Journal.
Judges Comments
1st Place – Rhiannon William – Brewlam
The judges felt that overall this project was extremely thorough. The complete thought process on the buildings function and needs felt like no stone was unturned. The research on the materials used was excellent and designed with the immediate building locale in mind. A practical and attractive design with timber at the forefront of its exterior and interior.
Congratulations Rhiannon!
Honourable mentions are the runners up of course, with some brief comments from the judges below.
2nd Place - Lauren Greensill - Paws in the Park
Unique idea and fantastic overall submission. Demonstrated very thorough research and understanding of the materials required. Great environmental credentials too.
3rd Place - Kate Johnstone - Connecting Tate
Kate has been sympathetic to the older connecting warehouse when designing the modern contrast. Sound reasoning behind the cladding choice and truss design. Not only did Kate think about the construction strategy, but about the spatial aspect of the internal design and how the contrast would impact visitors. Excellent submission.
One of our judges Jonathan Grant, who represents the award sponsor for this year, W Howard, commented as below;
All the applicants are excellent and the fact that the NWTTA is seeing such interesting submissions, and so much better than they were when we started, goes to show that the prize award in encouraging a great deal more interest in designing wooded structures and raising the awareness of our industry amongst the bright young architects of the future.
Well done on the talent this year!
NWTTA shortlisted, 2017/2018
Toby Boon-itt, Cask Brewery
Lauren Greensill, Paws in the Park
Yudi Huang, Stacks in Sefton
Kate Johnstone, Connecting Tate
Hugh Kam, Mersey Cider
Yulin Ran, Panoramic Skybar
David Weller, The City is my Orchard
Rihannon Williams, Brewlam
Charlotte Wood, Into the Woods