Graham Saunders Obituary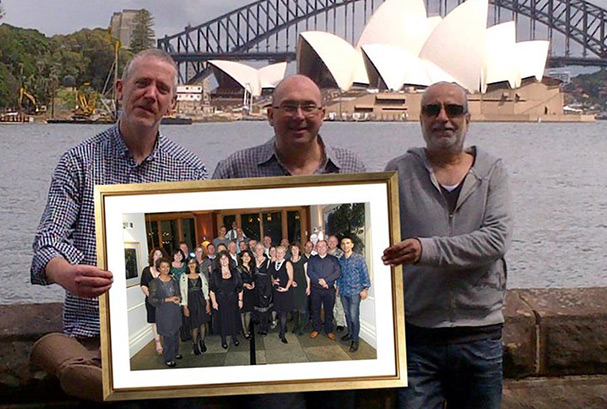 L to R: Thomas Stewart, Graham Saunders, Satvir Mand (Liverpool BA Architecture class mates), holding a photo of their year reunion in Liverpool the previous year, which they attended. The photo is taken in Sydney where Satvir has worked for many years.
Graham Saunders 1961 - 2017 (LSA 1980-83)
At the time of his recent and untimely death in Geneva, Graham Saunders' job title of "Team Leader, Global Networks & Operations Practice: Disaster & Crisis Prevention, Response & Recovery" couldn't even begin to convey how architecture, as a force for good, ran through his veins and was integral to everything he was doing in his work.
Graham spent his childhood in Berkshire, and studied for his Part 1 at Liverpool School of Architecture from 1980 to 1983. His insatiable appetite for knowledge, boundless energy and huge enthusiasm, were all immediately evident and he was an invaluable member of any pub quiz team. His huge potential as an architect was also clear and, for his year out, he sought out Michael and Patti Hopkins at a time when they were still working from their self-designed house in Hampstead.
That introduction led him to staying in London for his Part 2 at the AA, and he then re-joined Hopkins in 1986, working with them notably on the Mound Stand at Lords, and Bracken House in the City of London. He later moved to work with Roger Zogolovitch, also in London.
Graham had a love of overseas travel. During his years in London he would meet up regularly with LSA friends, and there were very memorable May-day visits to East Berlin and to Prague, at a time in the mid-1980s when those cities were still solidly behind the iron curtain. He also travelled solo to the arctic circle, and to Everest base camp.
He developed a love of cycling and cycle touring, preferably always with a particular aim in mind: moving in quick succession from west-to-east across England (Liverpool to Grimsby), east-to-west across Ireland, and Lands End to John o'Groats, before looking further afield.
The visit to Prague (and particularly a side-visit to Plzen, the home of the eponymous lager) had sparked the idea for a cycle ride through eastern Europe such that, over the course of three weeks away from the Zogolovitch office in late 1989, he was able to experience the last days of the Soviet empire – the Berlin Wall fell five days after completing the ride in Warsaw.
Subsequent rides (west-east across Africa and north-south across Russia and Ukraine) required a departure from paid work for a period of two years. Although he never went back to work in an architect's office, his involvement with the profession became deeper and wider, and far more beneficial.
In 1993 he signed up as a volunteer with VSO and was posted to the Albanian capital Tirana, to assist with re-housing of political prisoners and displaced people after the final collapse of the Communist regime. In early 1996 he was one of the first construction professionals to work in Sarajevo after the end of the Balkan war, living there for four years and dealing again with displaced people, specifically seeking to reverse the physical manifestations of ethnic cleansing.
He moved to Nairobi, where he worked with the humanitarian aid organisation CRS to coordinate disaster response across the whole of Africa and south Asia and finally, over ten years ago, he joined the International Federation of the Red Cross and Red Crescent (IFRC), based at their headquarters in Geneva.
Working for IFRC, he established the Global Shelter Program, and would be on 24 hour call to travel to any part of the world in response to a natural or man-made disaster.
Having started his career with high-tech, he did his best work with the lowest possible tech. This is a world where a sheet of tarpaulin stretched over a framework of sticks is often the best architectural response – it is functional, it is quickly deliverable, and it allows a displaced person to be instrumental in their own recovery.
Most recently his own direct involvement in disaster zones was scaled back and he concentrated on strategy, working with agencies and national governments across the world to establish coordinated responses to the challenges we face.
At a most personal level, Graham was unswervingly loyal and capable, including in any times of crisis – this very evidently extended throughout his work, and to everyone he dealt with.
He met Sarah Hargreaves during his early days in London and they were together for 30 years: their children Kezia and Joel travelled the world with their parents. Graham is survived by them, by his mother Gladys, and by his sister Dorcas.