Moulding Futures Symposium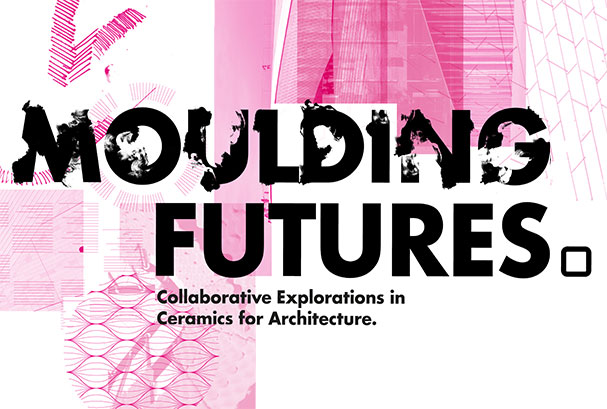 RIBA North is pleased to host the Moulding Futures: Collaborative Explorations in Ceramics for Architecture symposium, a one-day event presented by the Environmental Ceramics for Architecture Laboratory (ECAlab), on Friday 8th December 2017. The symposium is presented in conjunction with the exhibition Cerámica, 28th October 2017 through 10th February 2018, also at the RIBA North.
Major advances in ceramics engineering and craftsmanship have opened new routes for innovation, triggering the re-emergence of ceramics as a sensory and culturally inspiring material in architecture. This event will present innovative trends in contemporary architectural ceramics production, bringing together some of the most prominent national and international minds connected to ceramics design and engineering. It intends to spark a discussion around the multiple attributes of ceramics as a versatile and phenomenological architectural material. Through our speakers presentations and chaired discussions, we will explore a wide range of topics relating to ceramics architecture, such as:
the aesthetic, phenomenological and spatial effects of ceramics;
the environmental and technical performance of ceramics;
social and environmental sustainability;
digital fabrication technology, and innovative design methodologies and production processes;
digital and traditional crafts;
patterns, surface effects and new interpretations of ornament;
heritage, contextualism, local knowledge and cultural identity.
the re-consideration of clay and its renaissance as an innovative building material
Speakers include

Eric Parry, Eric Parry Architects, London, UK
Antoni Cumella, Ceramica Cumella, Barcelona, Spain
Maximiliano Arrocet, AL_A Architects, London, UK
Martin Bechthold, Harvard University, Massachusetts, USA
Alexis Harrison, Arup, London, UK
Clara Vicedo, ASCER, Castellon, Spain.

This symposium is generously supported by ASCER-Tile of Spain, the University of Liverpool and Leeds Beckett University.

ECAlab is funded and directed by Rosa Urbano Gutiérrez and Amanda Wanner (www.ecalab.org).
Schedule
Friday 8th December 2017, 8:30-17:30

08:30 Check in and coffee
09.00 Welcome, introduction and programme overview

Morning session Ceramic Architectures

What value can ceramics bring to architecture? How is ceramics inspiring new ways of expression and pushing the limits of what a new experience of the built environment can be? How can we reignite the interest in a material whose advancement has enjoyed less exploration throughout the twentieth century? What is allowing designers and ceramic artists to explore with renewed vigour, complex relationships between materiality and the spatial qualities of architecture? This session will focus on the theoretical questions and practical challenges raised by the use of innovative earthen materials in our contemporary cultural and architectural context. It will explore material performance, and critical perspectives on how the new imageries and perceptions fit into the evolution of the human relationship with clay.
09:15 Eric Parry, Eric Parry Architects
10:00 Maximiliano Arrocet, AL_A Architects
10:45 Critical discussion I: Current Contexts
11:30 Coffee break
12.00 Clara Vicedo, ASCER
12:30 Lunch

Afternoon session Innovation in ceramics production and architectural application

How are the current dialogues between disciplines enabling the emergence of new design methodologies?
How can ceramics engineering expand the imagination of visionary design professionals? How can we capitalise on the extensive knowledge of artists and craftsmen in these nascent technologies and construction processes? This session will focus on experimental ways of collaboration, production and prospective transformations of a primal material such as ceramics into complex hybrid systems, leading it to the forefront of innovation. It will include reflections on interoperability between tools and environments, production of innovation by using techniques out of their usual context, mixing big and small scale perspectives, hybridising/re-structuring bottom up and top down approaches, reversing/altering sequential processes, articulating vernacular and site-responsive languages, and understanding embodied energy, embodied cultural identity and production as a critical ethical issue.

13:30 Antoni Cumella, Ceramica Cumella
14:30 Alexis Harrison, Arup London
15:15 Martin Bechthold, Harvard University-Graduate School of Design
16:00 Coffee Break
16:30 Critical discussion II: Future Prospects
17:30 Wine reception
Book your place at eventbrite
More info at www.ecalab.org/mouldingfuturessymposium/