Royal College of Veterinary Surgeons (RCVS)

Our main accreditor, the UK's Royal College of Veterinary Surgeons, RCVS, that allows our students to become members (MRCVS) and hence to practice veterinary surgery in the UK on graduation.
Setting and monitoring the standards for veterinary education is a key responsibility of the RCVS. The RCVS defines the competences that need to be met by the new veterinary graduate, and specifies the requirements for veterinary degree courses to be approved for registration purposes. For further details see the Royal College of Veterinary Surgeons website.
The University of Liverpool School of Veterinary Science was fully accredited by the RCVS in 2016 with the attached RCVS Self Evaluation Report and RCVS Final Report.
It is due reaccreditation visit in March 2023 under the new Accreditations Standards and processes:
---
American Veterinary Medical Association - Council on Education (AVMA-COE)
The School has Provisional Membership of the American Association of Veterinary Medical Colleges (AAVMC), pending full accreditation with the AVMA-COE. The USA accrediting body, AVMA-COE, that will allow students to sit the North American Veterinary Licensing Examination (NAVLE) to work in the USA.
Graduation from an institute accredited by the AVMA COE- or CVTEA institution represents the highest standards of achievement and confirms the Schools commitment to quality and continuous improvement through a rigorous and comprehensive peer review. It is a prerequisite for licensure or certification for professional practice through the majority of state licensing boards and credentialing agencies in order to meet the educational prerequisites.
For further details see the AVMA website.
The University of Liverpool is not currently accredited with the AVMA-COE. We had a consultative visit in 2019 and are due a full accreditation visitation in February 2023.
For further information please see the Self Evaluation Report
---
European Association of Establishments for Veterinary Education (EAEVE)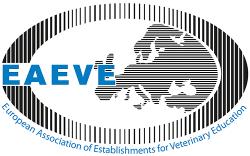 The mission of EAEVE is to evaluate, promote and further develop the quality and standard of veterinary medical establishments and their teaching within, but not limited to, the member states of the European Union (EU).

The School currently has ESEVT FULL APPROVED status after a combined visitation with RCVS in 2012.
We are due our next visitation in October 2022.
For further details see the EAEVE website.
---
Any student or staff member who has comments or concerns about how the educational program at the School of Veterinary Science addresses the standards of our accreditors (RCVS, EAEVE, or AVMA-COE in the future), can submit an anonymous comment using the "Message the Dean" link via the School Intranet.
Back to: School of Veterinary Science