150 years on Marie Curie is still inspiring young scientists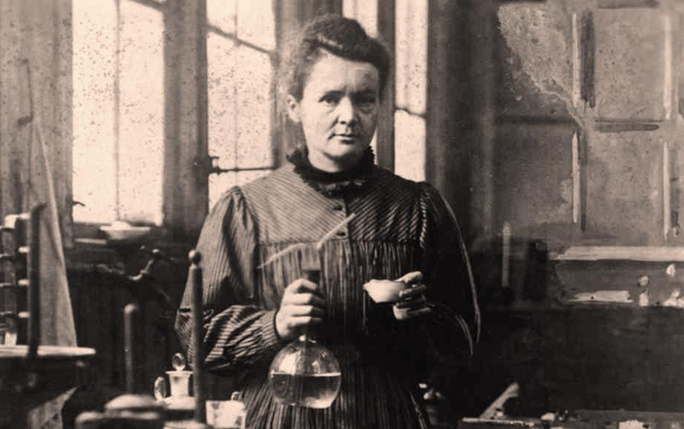 Twice Nobel Prize winner celebrated on Marie Curie Day 7th November 2017
"I think Marie Skłodowska-Curie represents courage; she was able to overcome all these challenges and to pursue something fearlessly. It's because of her legacy that people like me are able to come overseas and pursue our own dreams," says Jacinta Yap, a Marie Skłodowska-Curie research fellow in physics.
150 years on from her birth, Marie Skłodowska Curie inspires a new generation of scientists and a fund in her name is helping Jacinta together with Dr Alex Alexandrova and Bianca Veglia achieve their ambitions.
On Marie Curie Day, the contributions of this great scientist are being celebrated in simultaneous events at CERN in Geneva, in Munich and at the Department of Physics at the University of Liverpool.
Marie Skłodowska-Curie conducted pioneering work in radioactivity. She was the first woman to be awarded a Nobel Prize and to win two of them in different fields of science. Born in Poland but having to resettle in France to pursue her career, she ultimately became the first woman to be a professor at the University of Paris. Her interests included medical applications of her work: during World War I she developed mobile radiography units to provide X-ray services to field hospitals.
Professor Carsten Welsch, Head of Physics at the University of Liverpool, has co-ordinated several Pan-European training networks funded by Marie Skłodowska-Curie grants and is organiser of the Marie Curie day. Fellows in these programs combine academic research with work in companies and other innovative training to enhance their employability and career development.
He says: "Accelerator physics is a new and emerging area of science that offers great career opportunities in different fields for enquiring minds. Marie Curie is still an inspiration to us all on so many levels."
This view is shared by research fellows Jacinta Yap and Bianca Veglia, as well as former Marie Skłodowska Curie Fellow Dr Alex Alexandrova. They talk about how accelerators can create society benefits in medicine, research and industry.
Jacinta Yap is a Marie Skłodowska Curie research fellow in Physics at the University of Liverpool. She is part of the Optimisation of Medical Accelerators (OMA) European training programme led by the QUASAR Group.
Protons have unique physical and radiobiological properties, and so proton beam therapy offers advantages for specific cancer types. In particular, they can be shaped as narrow, focused beams that accurately target the tumour with minimal damage to healthy tissue. Although significant progress has been made in the use of particle beams for cancer treatment, further work is needed to maximize the healthcare benefits from these therapies. This is the area on which Jacinta Yap is working.
Dr Alex Alexandrova was a Marie Skłodowska Curie Fellow within a previous research and training network led by the QUASAR Group. After her training in the European network LA3NET (Laser Applications at Accelerators – a European network), she was awarded an Enterprise Fellowship by STFC and the Royal Society of Edinburgh. Most recently she co-founded the technology company D-Beam.
Her project has developed a better method for characterising high velocity targets, allowing precise measurements even in radiation-exposed environments. Alex is excited by the potential of commercialising the discoveries made within the Marie Curie programmes, something that interested Marie Curie herself.
Bianca Veglia is also a Marie Skłodowska Curie Fellow in the QUASAR Group, based at the Cockcroft Institute. She is involved in the Accelerators Validating Antimatter physics (AVA) project, which is studying the properties of antiparticles.
Her research on 'Beam Stability and Life Time in Low Energy Storage Rings' is looking at creating a source of cooled beams of antiprotons at lower energies than is currently achievable anywhere in the world. The antiprotons will be used for antimatter experiments by the new facility ELENA located at CERN.
For more information about Marie Curie Day 2017 visit marie-curie-day-2017.org