Our Writers
Rob Chapman
Dr Rob Chapman is an author of fiction and non-fiction. His lecturing experience has encompassed everything from doctoral supervision to teaching remedial English in a psychiatric borstal. He has also been a music journalist, predominantly for The Times and Mojo, a radio broadcaster with the BBC national network, and singer-lyricist with the Bristol based avant-punk band Glaxo Babies. His most recently published book Psychedelia and Other Colours (Faber and Faber 2015) is a labyrinthine account of the prehistory, cultural antecedents and creative manifestations of LSD-inspired music. Previous to that he wrote a critically acclaimed biography Syd Barrett: a very irregular head (Faber and Faber 2010). His debut novel Dusk Music was published by Flambard Press in 2008. His history of offshore radio, Selling The Sixties: the pirates and pop music radio, was published by Routledge in 1992 and is still in print.
---
Julian Ferraro
Julian Ferraro is a Lecturer in English Literature in the Department of English. Current projects include work on contemporary pictorial narrative and the intersection between literature, architecture, and nostalgia – in particular the comics of the Canadian writers and artists Seth and Dean Motter. He is collaborating with Liverpool University's Victoria Gallery and Museum on a retrospective exhibition covering the career of Liverpool-born artist John Higgins – perhaps best known as the colourist of the ground-breaking comic Watchmen. He has reviewed new and international writing for the TLS and Sunday Telegraph and supervises doctoral projects on the construction of city-space in the work of contemporary British and American writers, cartoonists, and film-makers, including Iain Sinclair, Will Self, Andrew Kötting, Lee Rourke, Geoff Nicholson, Tom McCarthy, John Lanchester, Teju Cole, Michael Sorkin, Colson Whitehead, and Ben Katchor.
---
David Hering (Co-Director)
David Hering writes and researches primarily on American and British fiction after 1945. He is particularly interested in form and narrative structure in contemporary fiction, as well as recent developments related to the "end of postmodernism", and the intersection between literary, musical and cinematic techniques. He has written and published extensively on the writer David Foster Wallace and was the recipient of a 2013-14 Harry Ransom Centre Research Fellowship for the purposes of researching Wallace's papers at the University of Texas. His book David Foster Wallace: Fiction and Form was published by Bloomsbury in 2016, and he has been invited to speak about his research in the UK, the US, France, Italy and Australia. He was an invited attendee of Post45 UK in 2015 and 2016. His writing has appeared in publications such as The Los Angeles Review of Books, Critical Engagements, Orbit and The Quietus. Recently, he has started to think about the role of "ghostliness" in contemporary literature and culture, and how the motif of the ghost stages a dramatisation of certain effaced elements of the postindustrial, postmodern landscape: ghost towns and cities, "repossession" and digital environments. He is co-director of the Modern and Contemporary Literature MA and has recently supervised research on 1960s metafiction, graphic novels and "post-postmodernism". He also runs the Illustrating Futures project on comics and mental health in association with Comics Youth and Tate Liverpool.
---
Lucienne Loh
Lucienne Loh s a Lecturer in English Literature in the Department of English. She works primarily in the areas of postcolonial literature and theory, international writing and contemporary British fiction. In particular, she is interested in the intersection between literature and politics, especially around theories of globalisation and transnationalism. She has published widely in journals and edited collections with an international focus, including in Textual Practice, the Journal of Commonwealth Literature and the Journal of Postcolonial Writing where she has written on writers as diverse as W.G. Sebald, V.S. Naipaul, Pankaj Mishra and Ma Jian. Her first book, The Postcolonial Country in Contemporary Literature was published by Palgrave Macmillan in 2013. She is also an Associate Editor for the Journal of Postcolonial Writing and helped to establish the Postcolonial Studies Association in 2008. At the University of Liverpool, she co-directs the Modern and Contemporary Literature MA pathway and organises the annual "Contemporary Writers Masterclass Series" for postgraduate students which seeks to bring internationally acclaimed writers and critics into the classroom.
---
Sandeep Parmar (Co-Director)
Sandeep Parmar is Professor in English. Her research interests are primarily British and American women's writing of the early twentieth century, modernism, innovative/avant-garde twentieth-century and twenty-first-century poetry in English, and contemporary poetry and race. Her books include: Reading Mina Loy's Autobiographies: Myth of the Modern Woman (Bloomsbury Academic), two scholarly editions of the Collected Poems of Hope Mirrlees and the Selected Poems of Nancy Cunard (Carcanet), and two books of her own poetry: The Marble Orchard and Eidolon, winner of the Ledbury Forte Prize for Best Second Collection. She is writing a biography of the British modernist poet and novelist Hope Mirrlees. Her essays and reviews have appeared in theGuardian, The Los Angeles Review of Books, the Financial Times and the Times Literary Supplement. She is working on a novel, which is partly set during India's Green Revolution in the 1960s, for which she has received a British Council/Arts Council International Artist's Development Fund Grant. She is a BBC New Generation Thinker and a trustee of the Liverpool Biennial. Her latest research project is an academic monograph on race and contemporary poetry.
---
Deryn Rees-Jones (Co-Director; on research leave)
Deryn Rees-Jones is a poet, editor and critic. She has published four full-length collections of poetry, most recently Burying the Wren (a Poetry Book Society Recommendation and shortlisted for the T.S. Eliot and Roland Matthias prize). She has collaborated with several artists on projects, including the AHRC funded Poetry Beyond Text, the Poetry Society's touring exhibition of women's poetry and landscape Where We Begin to Look, and most recently, a commission by the Ledbury Festival based on the life of the memoirist Helen Thomas which resulted in a book and filmpoem, And You, Helen. Critical work on women's poetry can be found in Consorting with Angels (2005) and the accompanying anthology Modern Women Poets (2005). Deryn has strong and developing interests in psychoanalysis and theories of creativity. Her Selected Poems is due from Seren in 2016. She is the editor of Pavilion Poetry, an imprint of Liverpool University Press.
---
Lisa Regan
Lisa Regan's interests lie in travel and empire narratives, particularly those of British travellers to the Middle East and North Africa. Alongside T. E. Lawrence's legacy in popular culture, she is currently focussing on the rise of the desert romance and its connections with British women's travels through the Sahara in the 1920s. She is also exploring British travellers' responses to Turkey following modernisation under Kemal Atatürk. Writers of particular interest are E. M. Hull, Rosita Forbes, Rose Macaulay, Freya Stark and Vita Sackville-West. The hope is that this research will form the basis for a larger project plotting a literary history of British women's writing on the Middle East and Maghreb regions, addressing questions of gender, politics and religion, from the First World War to the present.
---
Will Slocombe
Will Slocombe primarily works on the critical side of the literary divide, but has interests in various aspects of creative writing such as metafictions, experimental poetry and prose, the impact of new media technologies, and sf, as well as in the interface between creative and critical writing. He has supervised postgraduate work in the areas of digital poetry and information, and metafictions, alongside publishing his own work in outlets such as The Interpreter's House, Poetry Wales, Envoi, and 3:AM Magazine, and in various anthologies. He is particularly interested in the ways in which states of mind can be represented textually, and more broadly in the links between writing and mental health; his current creative projects are concerned with the relationship between biography, diagnosis, and textual form.
---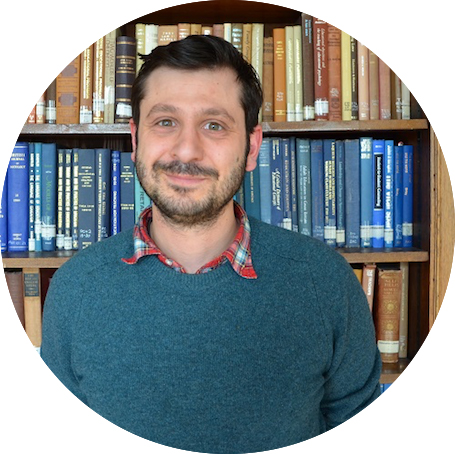 Sam Solnick
Sam Solnick primarily works on contemporary poetry and the environmental humanities. He has published work on JH Prynne, Ted Hughes, irony, the short story and site-specific performance. His first monograph, Poetry and the Anthropocene, was published in 2017 and he is currently working on a new project that explores representations of climate change across literature, performance and visual culture. He is a contributing editor for the quarterly arts journal The White Review and has written for a variety of publications including The Independent, The Times Literary Supplement and Newsweek. He is co-director of the University of Liverpool's Literature and Science Hub and is also on the steering committee of the Liverpool Literary Festival and the Centre for the Humanities and Social Sciences of Healthy Medicine and Technology.