CDT Student Interviews – Spotlight on Adam Tarrant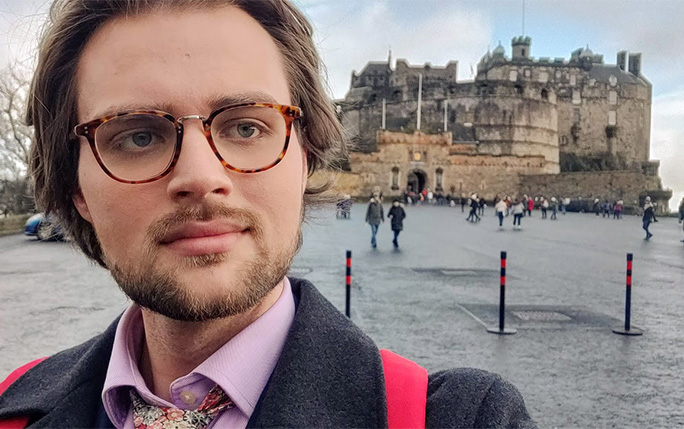 In October 2020, LIV.DAT welcomed its 4th cohort of students into the Centre. Since they started their PhD's, we have asked them a few questions as part of the CDT Spotlight Interview series. This will give you a more personal insight into work, motivation and challenges of our new students. Be sure to have a look at their personal profiles as well.
For this interview we have spoken with Adam Tarrant, who will be working on Super-Kamiokandia (Super-K) and WATCHMAN which are both water Cherenkov detectors.
Why are you interested in Physics?
"I have always had a fascination with the way things worked and was a very annoying child who asked way too many questions. This led me into science and maths where my intuition and curiosity found a natural home. I very quickly became interested in particle physics and cosmology where some of the biggest questions still remain unanswered. It is sort of amazing to be able to ask, investigate and figure out the answer. It is even more fascinating that every time we learn something new, 5 more questions appear meaning there is never a dull day."
How did you end up in Liverpool?
"I wanted to study in a city, and I couldn't have picked a more friendly one. Not only this, but the Liverpool physics department is one of the biggest in the country which meant there was a real diversity in research opportunities. When I was offered a PhD looking for Supernova neutrinos, I was super happy as it combines my love of the very biggest of astrophysical events with my passion for the very small fundamental building blocks of the universe to create a unique blend of research topics that not a lot of university would have the expertise to offer."
Which contribution to your field do you consider to be the most significant?
"Currently I have a paper published for the work I did on proton beam data taken by a high-pressure time projection chamber I helped to build. I have a few more papers on the way, but as I am only early on in my career my most significant contribution is the work I have done on promoting diversity in STEM in both outreach work (Christmas Lecture) as well as LGBTQ+ in STEM work."
What do you hope to contribute to your field?
"My work is on using neutrinos to help to our understanding of how and why supernova go bang. I hope that my work might help us understand and be ready for the next supernova burst. As these events only happen around twice a century it is important to be ready for when the next event occurs. With the current state of our detectors the next event could bring around a quantum leap in our understanding of supernova."
Where do you hope to end up after your PhD?
"I hope I can continue in academia in a postdoc position and hopefully in the long run become a lecturer."
Why do you think Big Data is important?
"In high energy physics (particle physics) our experiments produce a lot of data. This has led to many inventions to try and deal and record this data like the internet! It also meant, along with other fields, to development methods to process and understand this information. I look at big data, the way a theorist might look at maths, as a method to help us understand and figure out how our world works using large data sets where traditional statistical methods might fail to recognise a pattern."