News from 2010
This section provides an archive of news produced around the Impacts 08 programme between 2008 and 2010. More recent news associated to this and related research are available via the Institute of Cultural Capital.
If you're a journalist, please visit our Media resources page.
---
August 2010
An exciting time lies ahead for cultural research in the region over the coming months... Talks have been ongoing for some time now about how the University of Liverpool can build on the research strengths and expertise of Impacts 08, and in particular its links with other educational and cultural partners aross the city. We're now delighted to be able to announce that a unique collaboration between the University of Liverpool and Liverpool John Moores University will see the creation of a brand new research institute. The Institute of Cultural Capital (ICC) will be officially launched in September, chaired by Phil Redmond, with Professor John Belchem acting as Interim Director. The Institute will draw together the strengths (and in some cases, the staff) of Impacts 08 and the Northwest Culture Observatory, which has been based at the University of Liverpool since early 2009.
The ICC aims to improve policy-making around cultural innovation in Europe, drawing on Liverpool's experience in delivering and researching major culture-led regeneration programmes. We'll continue to update you on developments via this blog and our Twitter feed (a new site and Twitter feed will launch in September). For the forseeable future the Observatory website will continue to operate to facilitate access to cultural research and intelligence.
For more information please email info@northwestcultureobservatory.co.uk.
---
July 2010
Our European Capitals of Culture Policy Group staged a very successful event in Brussels to launch the framework it's been developing over the last year. An international framework of good practice in research and delivery of the European Capital of Culture programme (below) is a report which pretty much does what it says on the tin, offering guidance which was developed by representatives from Liverpool, Stavanger, Turku and Marseille. Find out more about the project.
We've also published a brand new report called The Look of the City: the impact of the Liverpool European Capital of Culture on the city's public realm. The Look of the City programme was a key part of Liverpool's year as European Capital of Culture in 2008, aimed at ensuring a 'green, clean and well dressed city', and this report explores how far it succeeded.
---
June 2010
We've published two new reports looking at the responses of different groups to the European Capital of Culture in 2008. Neighbourhood Impacts (2010) is a longitudinal research study into the impact of the Liverpool European Capital of Culture on local residents. It explores what local people felt about the Liverpool ECoC, their levels of cultural participation, and their perceptions of their city and some of its individual neighbourhoods. Tourism and the business of culture: the views of small and medium-sized tourism businesses on Liverpool European Capital of Culture 2008 (2010) is the result of in-depth interviews and an on-line survey of small and medium sized enterprises within Liverpool and Merseyside's visitor economy.
We've just added a new report to our collection of background papers. Student Perceptions of the European Capital of Culture: University Choice and Liverpool 08 (2009) is a paper produced by Dr Philippa Hunter-Jones & Dr Gary Warnaby, which considers the influence of the Liverpool ECoC on student choice, through 35 focus groups of first year undergraduates across all faculties of the University of Liverpool.
---
May 2010
We're delighted to announce that Jane Dawson and Martin Thompson have joined the Impacts 08 team. They'll be job-sharing the role of Research Programme Manager, developing our research legacy and overseeing the completion of our outstanding projects.

Martin has been a Policy Officer at Liverpool City Council for nine years, working on key initiatives such as the European Capital of Culture bid, Impacts 08 and the city's cultural strategy. He'll be overseeing the completion of our European Commission Cultural Policy Grouping project and our AHRC / ESRC Fellowship.

Jane is a cultural consultant and former Deputy Chief Executive of Culture North West. She'll be developing the Impacts 08 legacy and research archive.

These appointments are covering Beatriz Garcia's maternity leave.

For more information, or to get in touch with Jane or Martin, call 0151 794 2988 or email impacts08@liverpool.ac.uk.
---
April 2010
We have published three brand new reports. The Economic Impact of Visits Influenced by the Liverpool European Capital of Culture in 2008 sets out to understand the visitor economy in 2008, and to estimate the impact of the Liverpool ECoC on that economy. Local policymakers formed a steering group for the study, which met with researchers from the Impacts 08 team regularly throughout 2008 and 2009.
Volunteering for Culture explores the impact of being a Liverpool 08 Volunteer. In particular, it looks at evidence of the ways in which volunteering for Liverpool European Capital of Culture 2008 has affected volunteers' cultural interests and their levels of participation in cultural activity.
Liverpool on the Map Again: Liverpool stakeholders' reflections on Liverpool European Capital of Culture 2008 investigates the views of key stakeholders in Liverpool's civic life at the end of 2008 and early 2009, examining their involvement, their perceptions of the European Capital of Culture influence and impact on the city, and their thoughts for the city's future.
---
March 2010
We're recruiting for a Research Director / Programme Manager – Maternity Cover (6 months). In the wake of completion of the five year Impacts 08 research programme on Liverpool as European Capital of Culture, the University of Liverpool welcomes applications for a six month project management post (maternity cover) that will oversee the transition into a new cultural policy research environment within the university and key partners, and will support completion of related research programmes. Secondments from existing posts are very welcome. We are seeking a highly motivated research manager with experience of coordinating research projects and a good understanding of the cultural sector and event impact methodologies. The post-holder will oversee the immediate research legacy management of the Impacts 08 programme; will provide practical and coordination support towards an AHRC/ESRC funded Impact Fellowship on cultural policy and regeneration; will oversee the completion of a European Commission funded cultural policy grouping, and will provide strategic support to the recently established University of Liverpool culture and creativity research group. For an initial discussion for this post, please feel free to contact Dr Beatriz García, Impacts 08 Director (bgarcia@liverpool.ac.uk). More information on related programmes that must be overseen by this post is available in the 'Complementary programmes'. Download the job details and application form here.
On 12th March we held a major conference to mark the official launch of our final report. Beyond Impacts: lessons and legacies from researching Liverpool's Capital of Culture was attended by 150 delegates from Liverpool, the UK and Europe. We presented our headline findings, and had the opportunity to discuss aspects of our research framework and methodology in more detail.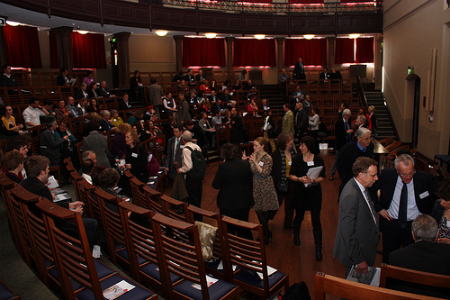 Photo: Andy Miah
We're delighted to announce that we've now published our final report. Creating an impact: Liverpool's experience as European Capital of Culture looks at the social, economic and cultural effects of the city hosting the ECoC title in 2008.