CSIS wins Research Impact of the Year Award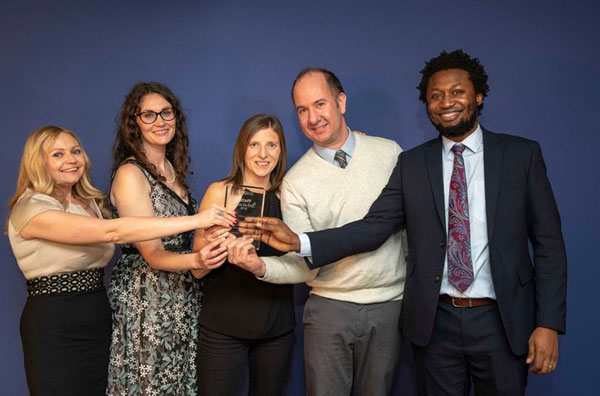 The Centre for the Study of International Slavery (CSIS) are delighted to win the Research Impact of the Year award at the University of Liverpool's Staff Awards 2018.
The Research Impact of the Year Award is awarded to teams who have generated significant research impact that has had a demonstrable effect beyond academia – on the economy, society, culture, public policy or services, health, the environment or quality of life.
Professor Alex Balch and colleagues at the Centre have been directly influencing industry and government to adapt national strategies, programmes and guidelines to combat forced labour and human trafficking. Professor Balch's research focuses on the politics and policy of immigration and forced labour, carrying out research and consultancy projects with a range of public and private organisations and regularly contributing to public debates including the 2018 International Business Festival in Liverpool, generating impact within the UK and globally.
The CSIS team was also commissioned by Co-op to provide an assessment of its Bright Future programme to evaluate its relevance and effectiveness, and to consider its sustainability. The report concluded that Bright Future forges a clear pathway for survivors of modern slavery to rebuild their lives and provided recommendations for improvement. Work such as this and the City Hearts programme has led to Professor Balch's invitation to contribute to round table discussion informing national efforts to address the problem of long-term integration of survivors of modern slavery. CSIS work has extended internationally with a £2 million Global Challenges Research Fund grant to help combat slavery in Sub-Saharan Africa.
Alex said: "It is wonderful to be recognised for the work that is being done at the Centre for the Study of International Slavery. We are truly an interdisciplinary team of many talents and that has allowed us to put together some really exciting collaborations."