Welcome to the Centre for the Study of International Slavery
The Centre for the Study of International Slavery (CSIS) supports and shares leading research about human enslavement and its legacies. Founded in May 2006 and based in Liverpool, a major slaving port with ships and merchants dominating the transatlantic slave trade in the second half of the eighteenth century. As well as being one of Europe's hubs of international trade and migration for centuries. The Centre is in a unique position to develop an international and interdisciplinary understanding of the global impact of slavery.

Founded as a partnership between the University of Liverpool and National Museums Liverpool, the Centre works together with other universities and organisations to develop scholarly and public activities related to slavery in its historical and contemporary manifestations.

Today, the city's International Slavery Museum serves as a starting point for different forms of engagement with slavery and abolition across time and space.
Who we work with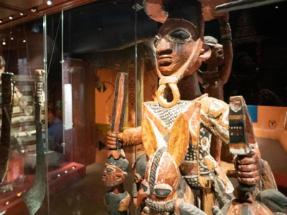 The Centre for the Study of International Slavery are part of a family of organisations promoting research into past and contemporary forms of slavery or forced labour, and we welcome collaborations with partners across the world.
Collaborators include-
To see all collaborators, visit our partners page.
Aims and Governance
Management Board
Mission Statement-
We aim to facilitate the exchange of knowledge and opinions between scholars based in Europe, Africa, the Caribbean, and North and South America. The Centre will facilitate access to rich archival (link) and material collections, while offering a strong focus on questions of culture and heritage.
While the Centre's primary focus will be on scholarly research, this activity is designed to contribute to learning and outreach programmes and events for local communities, schools, volunteers, lifelong learners, and the general public. The activities raise awareness of the persistence of slavery and means of its eradication, as well as encourage debate about attitudes towards freedom, race, ethnicity, tolerance, respect, and citizenship.
To achieve its aims, the Centre will organise interdisciplinary academic conferences, seminars and workshops and will network with other research institutions and scholars across the Globe.