Our Team and Partners
For details about our management board and governance please see About Us.
You can learn more about some of the current areas of our research. University of Liverpool faculty members welcome communication from prospective PhD students in their areas of interest, and we have a strong record of supervising interdisciplinary projects in this area.
---
Our Team
Co-directors
Dr Laura Sandy (University of Liverpool, History)
Laura Sandy is the current University co-director of the Centre for the Study of International Slavery. She is a historian of slavery, North America and the Atlantic World. She teaches undergraduate modules on colonial America, American slavery and Civil Rights and, also, early American comparative slaveries as part of the MA in International Slavery Studies. She joined the University of Liverpool in October 2015 having previously held full-time posts at Oxford Brookes University and Keele University. Laura's ESRC funded PhD and Post-Doctoral award supported research on American slavery and led to the publication of works which review the lives of overseers (free and enslaved) and their wives on colonial slave plantations in Virginia and South Carolina. Her first book is entitled The Overseers of Early American Slavery: Supervisors, Enslaved Labourers, and the Plantation Enterprise.
Dr Richard Benjamin (National Museums Liverpool)
Richard Benjamin heads the International Slavery Museum at National Museums Liverpool and is co-director for the Centre for the Study of International Slavery. He is responsible for the strategic development of the Museum, including its forthcoming state-of-the-art education and resource centre, partnership work and research. He gained a BA (Hons) degree in Community and Race Relations at Edge Hill College and then went on to complete an MA and PhD in Archaeology at the University of Liverpool. In 2002, Richard was a Visiting Research scholar at the W.E.B. DuBois Institute of African and African American Research, Harvard University, and was appointed as the Head of the International Slavery Museum in 2006. He was awarded an Honorary Doctorate by Edge Hill University in 2012.
Programme Manager
Dr Mary Booth (University of Liverpool)
Dr Mary Booth specializes in American and British studies, museums studies and heritage tourism studies. Her most recent contribution to the field includes a working manuscript focused on tracing the evolution of museological sites, specifically identifying different catalysts for interpretive change and evaluating the longevity and reception of representational developments. Additionally, she has published on topics including race and gender as well as academic pedagogy and continues to the contribute to the ongoing research surrounding university benefactors and their financial links to historic racial slavery in both Manchester and Liverpool.
Marketing Administrator
Ms Emily Bradley
Emily specialises in marketing, administration and communications for the School of Histories, Languages, and Cultures, specifically working for the Centre for the Study of International Slavery (CSIS) and the Liverpool Confucius Institute (LCI). Her current role at the University of Liverpool involves managing all marketing for the institutions aiming to enhance the outreach of both CSIS and LCI to the local community helping to achieve their aims and objectives.
CSIS Fellows
Leona Vaughn
Beatrice Marin-Aguilera
Our Partners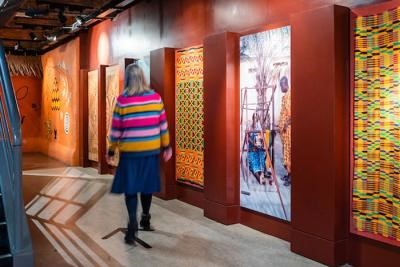 The Centre for the Study of International Slavery was founded as a partnership between the International Slavery Museum at National Museums Liverpool and the University of Liverpool. However, we are part of a family of organisations promoting research into past and contemporary forms of slavery or forced labour, and we welcome collaborations with partners across the world.
Research centres and institutes
Research projects
Scholarly societies and journals
Museums
Non-Governmental Organisations