Introducing new collaborative tools
In September 2019 we launched new Office 365 applications, including OneDrive, Teams, Planner, Sway.
OneDrive for Business
Available to all staff and students, OneDrive allows you to access your work files any time, anywhere, from any of your devices. OneDrive is for your own, individual work files. You can share files and collaborate with University colleagues but remember, it is your responsibility to manage who has access to any files that you share and to keep permissions up-to-date. For more formal collaboration, Teams or SharePoint are the recommended apps. Sensitive and confidential information should be stored on your M: drive or departmental drive.
Use the OneDrive Quickstart Guide and the CSD knowledge base to get off to good start with Microsoft Teams.
Teams
Microsoft Teams is a hub, bringing together chat, files, apps, and online meetings into one space. You can seamlessly share information, work together on documents and projects, and keep each other up-to-date with informal chat. To create a new Team, staff can complete a short online request form on the CSD self-service portal.
Use the Microsoft Teams Quickstart Guide and the CSD knowledge base to get off to good start with Microsoft Teams.
Planner
Microsoft Planner is provides a lightweight task management tool for teams. You can create tasks, assign them to team members, and update the status of them as you make progress. If you have an existing Microsoft Teams site, you can choose to add a Plan to your site. If you want to use Planner outside of Microsoft Teams, members of staff can request a Plan by completing an online request form on the CSD self-service portal.
Sway
Sway is an online presentation tool which offers a more visual alternative to PowerPoint and Publisher, helping users create engaging, visual presentations, newsletters, reports and other digital content. Sways can be shared with University staff and students.
SharePoint
SharePoint is part of the Office 365 suite. Create and access sites to share news, resources, and content. Integrate SharePoint Online with your Microsoft Teams workspace, as well as organise, and securely share, files and content with people inside and outside the University. To request a SharePoint site, staff can complete a short online request form on the CSD self-service portal.


In March 2020, to support teaching and working from home, we made additional Office 365 applications available, including Forms, Stream and Whiteboard.
Forms
Microsoft Forms is a simple, lightweight app that lets you easily create surveys, quizzes, and polls. In educational institutions, it can be used to create quizzes, collect feedback, or plan class and staff activities. To start using Forms, view this Quick Start Guide from Microsoft.
Stream
Microsoft Stream (not to be confused with the University of Liverpool's Stream Capture) is a video service where people in your organisation can upload, view, and share videos securely. You can share recordings of classes, meetings, presentations, training sessions, or other videos that aid your team's collaboration. To get started with Stream, check out Microsoft's guide.
Whiteboard
Microsoft Whiteboard is a freeform, digital canvas where people, content, and ideas come together. You can use Whiteboard for collaborating with your team to accomplish many activities — whether your team is in the same place or in multiple locations. Team members can work collaboratively using their own devices. To get started with Whiteboard, sign in and follow Microsoft's guidance.


Please note: These Office 365 apps offer new University cloud storage spaces to use and store your work. It's important to remember that you are in control of who can see or edit your information within the Office 365 apps. Additional security protection will be enabled by Spring 2020 to support your use of Office365 apps for confidential and sensitive information.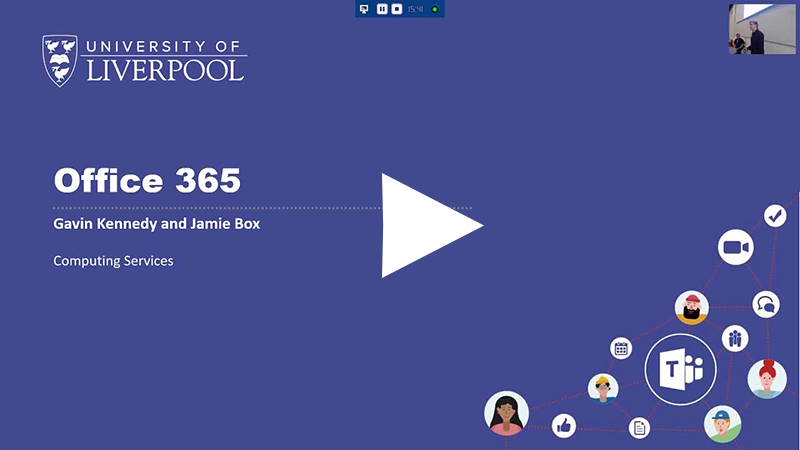 Office 365 Roadshow... at your desk
If you were unable to attend one of our Microsoft Office 365 roadshow events, you can now view the presentation on Stream where you will learn more about these handy tools available to you for seamless, collaborative working.
Back to: Computing Services