Carmel College Students Celebrate HSK Exam Success with the LCI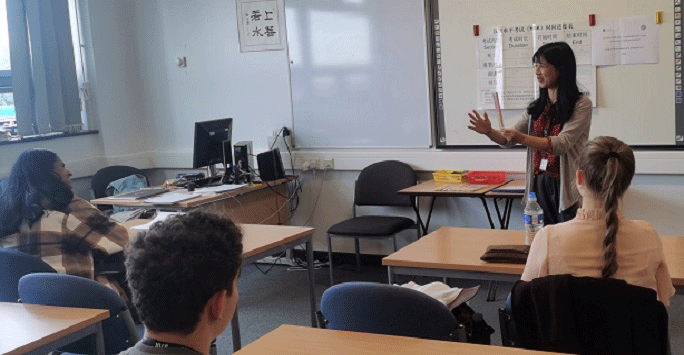 Carmel College in St Helens, Merseyside, is the University of Liverpool Confucius Institute's Confucius Classroom. A number of students study HSK1 and HSK2 throughout the school academic year. The HSK, or Chinese Proficiency test, is an international, standardised exam which tests and rates Mandarin Chinese language proficiency.
The University of Liverpool Confucius Institute holds HSK Tests offline and in-person according to the Chinese Proficiency Test UK Committee HSK Test schedule.
After many months of dedicated hard work and study, guided by Liverpool Confucius Institute (LCI) Tutors Ms. Lili Yang and Ms. Ziwei Guo, on 13 June, students from Carmel College took their HSK1 and HSK2 tests.
They did very well and everyone passed the exams. There are 200 marks available in the HSK1 and HSK2 tests. Four students achieved very high marks in HSK1: 197-188, and one student in HSK2 achieved a mark of 195.
Carmel College students commented that they enjoyed the Mandarin classes, felt comfortable with LCI Tutors and confident to pass their exams, read and write Mandarin.
Carmel College teaching staff said they are very pleased with the students' results and look forward to cooperating with Liverpool Confucius Institute next term for more Mandarin classes.
LCI Deputy Director (China) commented: "We are very pleased to work with Carmel College and their students, who work hard and are very diligent. We would like to invite them after the pandemic to join the Xi'an Jiaotong University (XJTU) Summer Camps. It is great to continue this teaching and relationship with Carmel College, our Confucius Classroom."
LCI Tutor Ms. Lili Yang said: "I am happy to have the opportunity to teach Mandarin to Carmel College students since September 2021. They are a lovely group to work with, and now they have the knowledge and skills for daily Mandarin conversation."
September will bring a new school term of exciting and inspiring Mandarin classes for Carmel College students, as they work towards developing even stronger Mandarin skills with support from the team at Liverpool Confucius Institute (LCI).