Successful University of Liverpool Confucius Institute Schools' Annual Dragon Boat Race 2022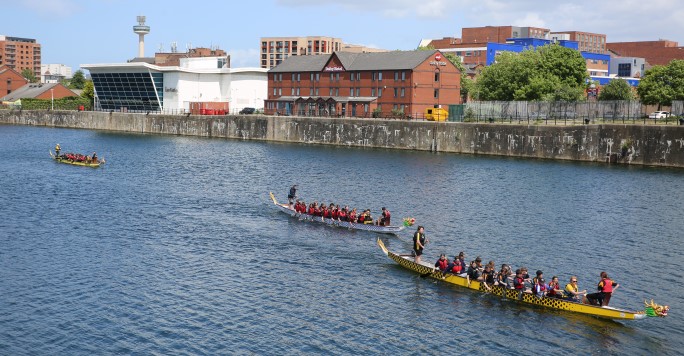 After a two-year break, on Friday 10 June, eight Merseyside schools took part in the LCI Annual Schools' Dragon Boat Race, Co-hosted by 4 Dragons Ltd., at Liverpool Watersports Centre at Queens Dock. Under bright blue sunny skies, to the sound of LCI Cultural Ambassadors playing traditional Chinese musical instruments Guzheng, Erhu and Bamboo Flute, there was a real air of camaraderie. Teachers, parents, guardians and LCI staff cheered all the teams on.
Congratulations to all competitors. There were up to 16 people in each team led by their teachers.
Calderstones, Birkenhead Park and North Liverpool Academy performed well
Most improved time goes to The Academy of St Nicholas, who shaved 1 min off their time

St Francis of Assisi managed to beat the Staff team

Liverpool College won Bronze

Saints Peter & Paul Catholic High School won Silver

Ormiston Bolingbroke Academy won Gold
The event really engaged students positively and created a real sense of teamwork and focus. One teacher mentioned that some of their students had never been out of school for a trip and they were excited to be able to give them this opportunity.
The Dragon Boat Race event gave them an opportunity to learn to focus and work as a team with a shared goal. For some of the more experienced students, this was an opportunity to really shine.
Pupils told LCI staff that they really enjoyed taking part in the event and would like to join more LCI events in the future. Everyone involved gained something from the day. Although there are bronze, silver and gold winners, everyone involved is a winner!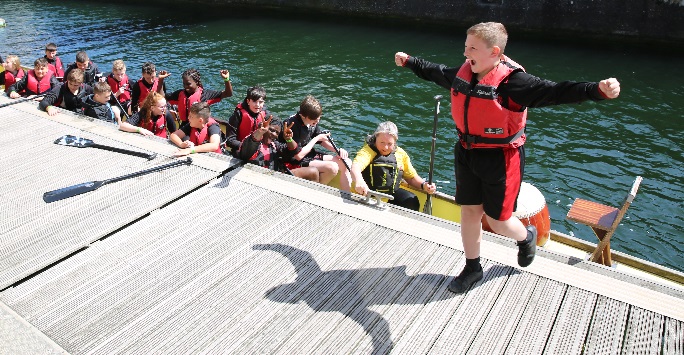 Birkenhead Park School student celebrating winning their Dragon Boat heat race
Dragon Boat Festival dates back for more than 2200 years and it is celebrated by Chinese and other communities worldwide annually, as Poets' Day in honour of Qu Yuan, who was a Chinese poet and a patriotic official in ancient China. The opening ceremony consists of traditional dotting the eyes of the dragon, symbolising awakening the Dragon's spirit, to help win the race. This was carefully done by President of the Liverpool China Partnership Mr Gary Millar and LCI Deputy Directors Dr Penny Ding and Dr Hua Zhang.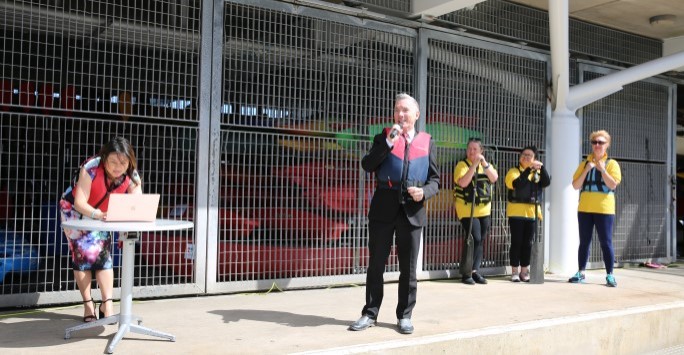 President of the Liverpool China Partnership Mr Gary Millar's welcome speech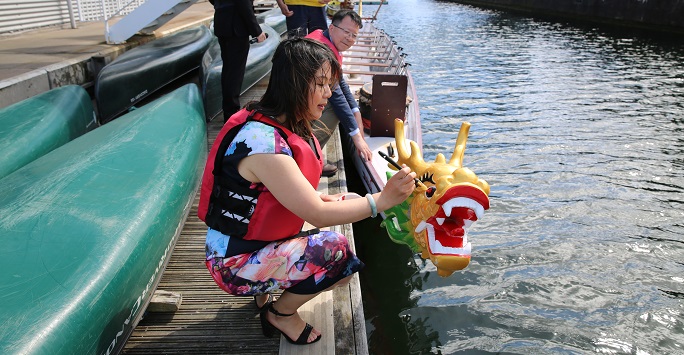 Dr Penny Ding LCI UK Deputy Director Dotting the Eyes of the Dragon
LCI UK Deputy Director Dr Penny Ding commented: "The Confucius Institute is proud to host this year's Dragon Boat Race for local schools in Liverpool. It is great to see eight school teams with nearly 130 pupils participating and celebrating this wonderful Chinese tradition through sport. I'd like to thank all participating schools for their commitment and efforts to attending the training sessions and today's races. I'd like to congratulate all eight teams on your great performance and the best teamwork I have seen for a long time. "
Discover Chinese Culture including the Mandarin Language
There are lots of opportunities to get involved with the Liverpool Confucius Institute (LCI) learning Mandarin, Calligraphy, Chinese Painting, Paper Crafting and being inspired by Chinese dance, music and more. Explore the LCI via the QR code and/or email us if you would like to be added to our mailing list and/or hear about opportunities to work with the LCI.
Explore and connect with Liverpool Confucius Institute