LCI Team Win Bronze at the Northwest of England Confucius Institutes Dragon Boat Race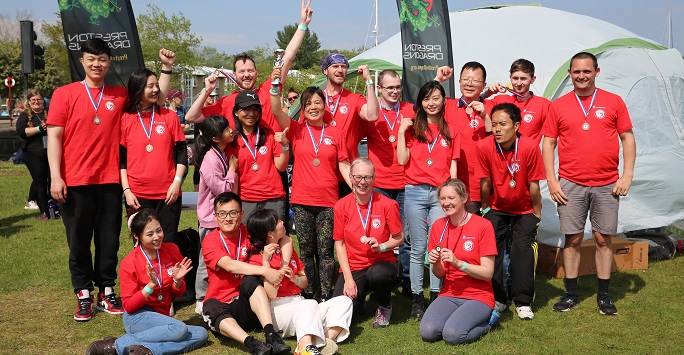 University of Liverpool Confucius Institute (LCI) recently won Bronze at the Northwest of England Confucius Institutes Dragon Boat Race, hosted by University of Central Lancashire (UCLAN) and Preston Dragons at Preston Marina, Lancashire.
In China, the Dragon Boat Festival traditionally occurs on the fifth day of the fifth month on the Chinese Lunar calendar. On that day, people eat zongzi (pyramid-shaped dumpling made of glutinous rice wrapped in bamboo or reed leaves) and hold dragon-boat races. It is said, these activities commemorate the great patriotic poet Qu Yuan of ancient China. It dates back for more than 2200 years. It has long been marked as a cultural holiday and a public holiday in China.
Up to the present, the dragon boat race is not only limited to the Dragon Boat Festival but has also spread to many places around the world, and even became an important sporting event.
Along with UCLAN and University of Liverpool, Confucius Institute teams Manchester, Edge Hill and Lancaster Universities took part in this wellbeing and community focused event. It was a bright sunny Sunday, the LCI Team woke extra early to make travel from Liverpool to Preston Marina, enjoying passing through the green fields, small towns, and villages on the A59 from Liverpool to Preston.
The event was opened with speeches, including by Director of the UCLAN Confucius Institute Feixia Yu and the outgoing Mayor of Preston Javed Iqbal. This was followed by the ancient traditional dotting of the eyes Dragon Boat ceremony, which originates from when the Chinese people used to bury their Dragon Boats under the water to save them from the harsh winter weather. In the Spring they brought them out of the water and dotted the eyes of the Dragon Boat to represent the opening of the Dragon's eyes to the world once more.
Preston Dragons led the Dragon Boat Race event and everything went very smoothly under their careful eye. Members of Preston Dragons come from far and wide, to train with their team on a regular basis at Preston Marina.
The LCI team worked very well together and came home with Bronze medals and a trophy for the LCI Space. Our Merseyside Region neighbours Edge Hill University Confucius Institute won the overall competition.
LCI Deputy Directors Hua and Penny commented:

"We'd especially like to thank all the team for their commitment and effort shown - attending the training sessions, participating in the races, and supporting the team on Sunday. Many congratulations to the team for winning the Bronze Medal. The LCI team spirit, commitment and effort is very much appreciated. We thoroughly enjoyed working with you as a team."
Explore the sport and tradition through the British Dragon Boat Racing Association (The BDA)
Book Liverpool Confucius Institute Chinese Mandarin language and Chinese arts courses, register for free events or connect with us on Twitter or Instagram.