Dr Chan inspires LCI audience about the work and potential of UK-China Film Collab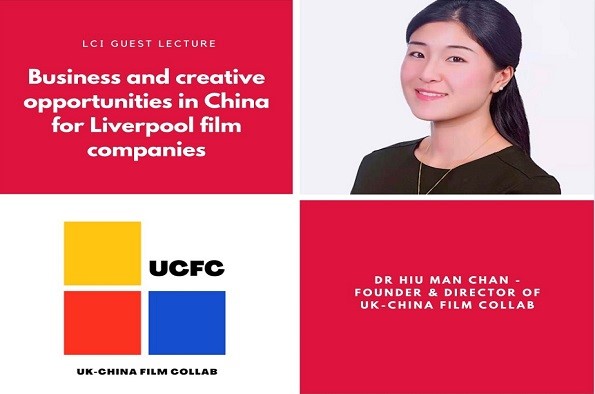 UK-China Film Collab (UCFC) Founder and Director Dr Hiu Man Chan's LCI guest lecture provided an epic story of UK and China film history, as well as current day business and creative opportunities in the Chinese film and media sector.
President of the Liverpool China Partnership, LCI Board Member and former Lord Mayor of Liverpool, Mr Gary Millar, provided an informative opening speech of historic and current contexts to the importance of and massive potential for UK and China film and media collaboration, including an overview of Liverpool working on becoming a world-class centre for film production generating £16-20 million per year.
Dr Penny Ding, LCI UK Deputy Director, welcomed Dr Chan, Mr Millar and guests to the LCI and gave an overview of the importance of our connection with Dr Chan and UK-China Film Collab, including our new annual partnership running the LCI Chinese Film Festival which started successfully in November 2021.
As Liverpool works towards becoming the "Hollywood of the North", it is already the most filmed city in the UK outside London and has been the location for many film productions, including: Harry Potter prequel Fantastic Beasts and where to find them, Peaky Blinders, Doctor Who, Ridley Road and recently released The Batman. It is very relevant to hear from Dr Chan about the incredible work of her unique NGO UK-China Film Collab in the first two years of its existence. Dr Chan discussed creative business opportunities including co-productions, expertise and skills export, education (online and offline), non-distribution film exhibition, foreign direct investment and the search for a new female martial arts star fluent in Mandarin, Cantonese and English.
"If you look around you, most people have a Chinese connection. China is not that far away from you!" Dr Chan opened her talk.
Providing a fascinating presentation, including statistics of the world box office where Chinese films held second and third place in 2021 and first place in 2022 so far, Dr Chan showed how successful Chinese produced films are in their home market. What is less known is that British films are also relatively successful in the Chinese market, such as 1917. Almost 500K audience have rated 1917 on Chinese website Douban to date. Dr Chan explained how the Chinese and British societies have more ground in their down to earth storytelling than Hollywood, who focus a lot more on fantasy-based films. Dr Chan introduced how UCFC co-organised the largest retrospective of Charlie Chaplin in China in 2019 at the Hainan Island International Film Festival. Mr Gary Millar spoke of Charlie Chaplin's links to Liverpool as part of the Lancashire Clog Dancers.
Dr Chan also discussed the necessary focus on global sustainability in Chinese film conversations, how much the Chinese audience likes the BBC, especially nature programmes presented by Sir David Attenborough. Currently, Chinese investment in films mainly comes to the UK via Hollywood. Dr Chan asks what if it was direct? Another question posed was…How is the UK behind Europe in film diplomacy in China? This is a question that UCFC continues to raise awareness of via their publications and social media campaigns.
"The more films we watch, the more we learn about ordinary people. I hope people in the UK can one day appreciate Chinese films and TV as much as I like British cinema, for example I'm a big fan of Withnail and I and 1917."
There are around 3000 film studios in China and Dr Chan showed the audience some of these incredible facilities such as Xiangshan Global Studios, explaining that China has the facilities, yet it could benefit from the skills and expertise of film production professionals in the UK, such as in studio logistics and management. UK studios are often booked around 4-5 years ahead by the studios. Dr Chan explained that she thinks China could benefit from having access to a film studio management university course. This is something UCFC is working hard on to collaborate with different universities to launch in a near future.
Major business agreements are happening in the Chinese film industry too, including the UK and China signing a film co-production agreement in 2015, which has resulted in co-productions of Earth: One Amazing Day (2017), The Foreigner (2017), Special Couple (2021) and plans for Untamed (2022). The latest co-production looks at how Shakespeare has been translated in China, aiming for release this year during the 50th anniversary of the diplomatic relationship between the UK and China.
Above all, independent UK immersive theatre production company, Secret Cinema, also launched in China in 2019 and others are making new deals to commercialise their intellectual property (IP) such as Merlin Entertainments with Octonauts. There is still so much to be explore, Dr Chan concluded her talk.
Connect with UK-China Film Collab including their Future Talent Development Programme and opportunity to pitch an idea of your own UCFC is currently planning the biggest British cinema showcase in China across 5 cities this year; there will new opportunities for partnership to be discussed with the organisation.
Read the BBC news article "Hollywood of the North" film studio opens in Liverpool
Check out upcoming LCI events.