Liverpool Confucius Institute (LCI) wish everyone a Happy Chinese New Year of the Water Tiger. 虎年大吉, 万事如意! May Spring Festival bring you health and prosperity.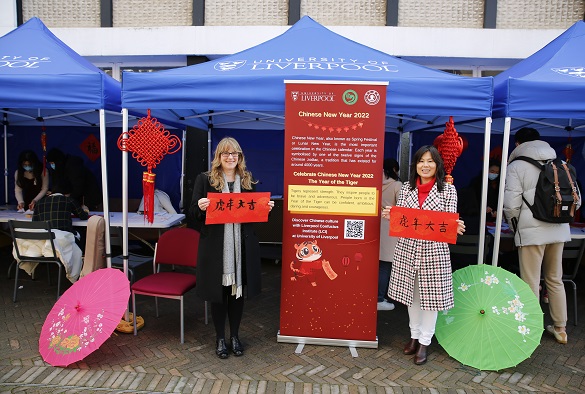 The LCI team has enjoyed co-producing several successful Chinese New Year 2022 collaborative events including a Chinese craft workshop accompanied by traditional Chinese music, at University of Liverpool's Victoria Gallery & Museum on Saturday 29 January and Feel-Good February Welcome Week Chinese celebrations on Tuesday 1 February, and a Chinese craft workshop at Liverpool City Chinese celebrations with The Liverpool China Partnership and Culture Liverpool Sunday 6 February. The University of Liverpool events featured Chinese traditional calligraphy and paper craft on the theme of the Tiger, accompanied by Chinese music including Dulcimer, Guzheng and a singer guitarist duo.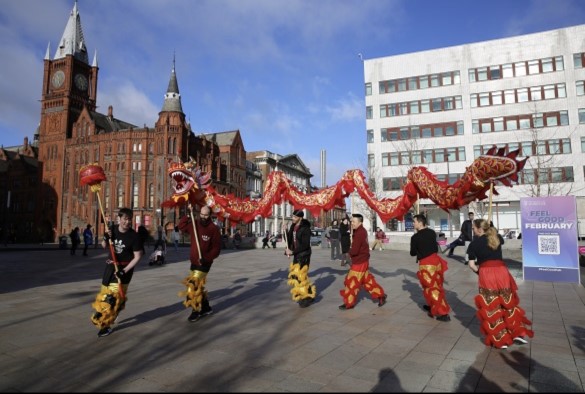 Chinese Dragon parade at Feel Good February Welcome Week
Liverpool City Chinese New Year celebrations involved traditional displays such as the Dragon and Unicorn parade, firecracker displays, and a small fairground. Thousands of Chinese lanterns decorated several Liverpool streets and buildings, signifying good luck and well wishes for the New Year ahead.
The LCI Team facilitated a free family craft workshop, inviting members of the public to try the ancient arts of Chinese calligraphy, tiger-themed paper cutting and paper folding. The team also wrote visitors' names in Mandarin characters, with the traditional Chinese paintbrush on red paper, which proved incredibly popular. It was a very diverse event with people from all over the world, many of whom are studying or working at the University of Liverpool.
Local Primary School Teacher and mother Kate commented:
Wonderful! Well-resourced and professional staff.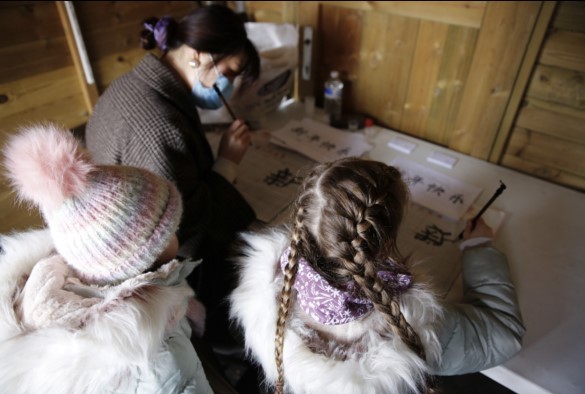 LCI Tutor Ms Ziwei Guo teaching Chinese Calligraphy
LCI UK Deputy Director Dr Penny Ding said:
With Liverpool's strong historical connections to China and with the oldest overseas Chinese community in Europe, there is arguably no other city in the UK where Spring Festival celebrations are so much a part of our own identity.
University of Liverpool Confucius Institute (LCI) provides a range of Chinese Mandarin language and craft teaching activities for the City of Liverpool, Merseyside region and online to global communities.
We have currently extended the booking period for LCI language and cultural courses until Wednesday 16 February at 12 noon. Prices are the same as advertised and our Tutors will provide extra tuition to help anyone joining a course late to catch up.
Book an LCI Mandarin language and cultural course.
Explore the LCI Chinese New Year of the Water Tiger webpages.