Teaching Training delivered by Dr.Diana Powell from Wirral Unplugged CIC 20/09/2019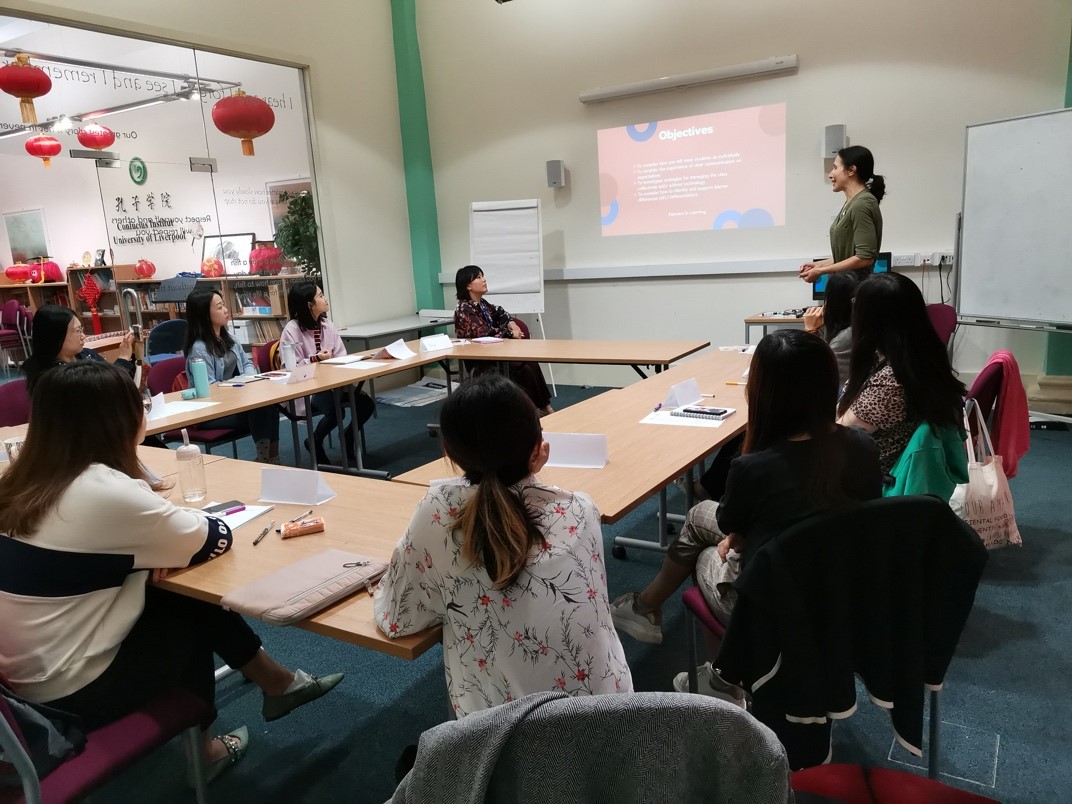 Teaching Training delivered by Dr.Diana Powell from Wirral Unplugged CIC
On the morning of September 20, 2019, Dr. Diana Powell, from Wirral Unplugged CIC, who has rich teaching experience, came to the Confucius Institute at the University of Liverpool to give a wonderful lecture entitled "Connecting with your students and classroom management" for volunteer teachers and public teachers.
Dr. Diana Powell has been teaching for nearly 20 years. She is a qualified secondary school teacher, senior fellow of the HEA, staff mentor and trainer. She has taught abroad (in Bangkok) and worked as a Curriculum Manager and Lecturer at Liverpool International College (she has lectured at the English Dept and CE). She has worked for IELTS, and researched and presented on global graduate skills and support for international students, and she is particularly sensitive to second language learners.
She is passionate about public welfare and is obliged to provide regular educational activities for community children, which is very popular among parents and children. This lecture enriches the teaching experience and skills that Dr. Diana Powell has accumulated over the years. From teaching language to teaching attitude, from communication to management skills, Diana Powell displayed vividly. As mentioned in the lecture, we should pay attention to the participation of all students in the teaching activities. For example, when organizing student discussions, each student can undertake the corresponding work (timekeeper, recorder, speaker, manager, etc.). Improve the efficiency of discussion. At the same time, we should often walk around the classroom to observe the response of each student, so as to make timely adjustments in the teaching content. Diana Powell also introduced some practical teaching tools to increase the fun of classroom teaching.
At the end of the lecture, Diana Powell gave an effective answer to the questions raised by the Confucius Institute teachers. The whole lecture was conducted in a relaxed and pleasant atmosphere. The Confucius Institute teachers learned a lot and will apply them to teaching in the future .