Annual School Dragon Boat Race 2019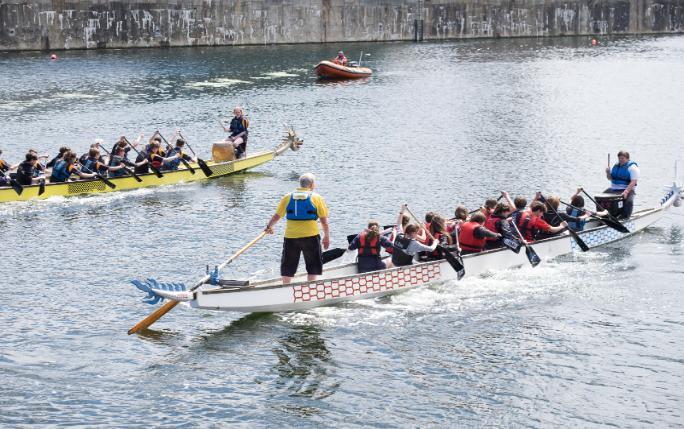 Annual School Dragon Boat Race
4th June saw the Annual School Dragon Boat Race. Six teams from secondary schools and a community team across Merseyside participated in the Race. The Year 8 pupils were from Alsop High, St Francis of Assissi, Arch Bishop Beck, Gateacre, North Liverpool Academy and Ormiston Bolingbroke, plus a community team was made up of Merseyside police, House Agency, ASDA who have put in a lot of effort and support for the event.
Dragons 4 Ltd, who worked in partnership with Confucius Institute kindly made it a non-commercial event. At the opening speech, Dr Penny Ding, Deputy Director welcomed the teams and introduced the cultural background of the Dragon Boat Festival. She also commented, 'Liverpool has one of the oldest and largest Chinese community in Europe and Confucius Institute here at the University of Liverpool has great relationships with local schools. It is fantastic choice to choose the Water Sports Centre in Liverpool for the Race.'
Dr Ding also extended gratitude to organisers who have supported the event.
Despite the rather rainy weather, the young paddlers were extremely passionate. After a hotly contested final, Archbishop Beck Sports College were crowned Champions, with Ormiston Bollingbrok Academy in second place and Gateacre High School in third.
Colleagues from Merseyside Police said 'we've thoroughly enjoyed the event. It gave young and old opportunity to understand Chinese culture and have fun at the same time. '
If you wish to receive our newsletters, please email lci@liverpool.ac.uk.