From Here to There: Playwright Mary Cooper leads bilingual writing workshop at Confucius Institute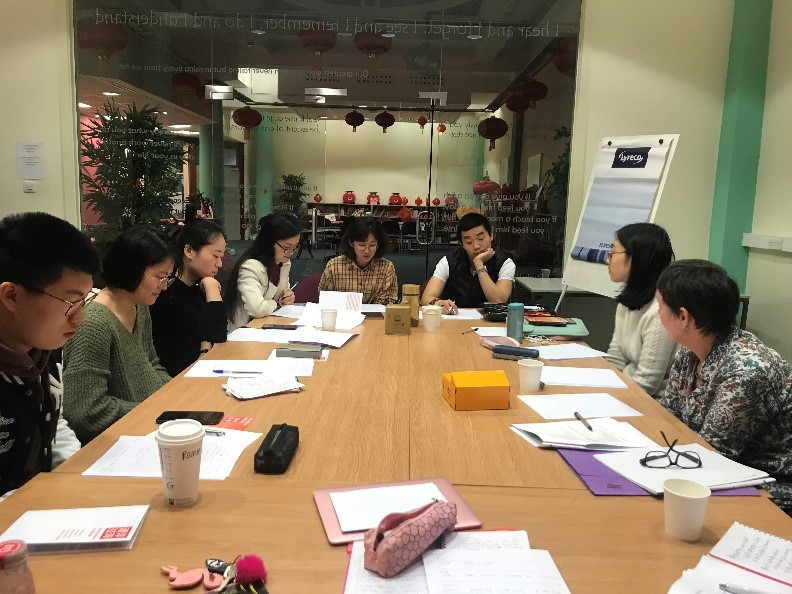 From Here to There: Playwright Mary Cooper leads bilingual writing workshop at Confucius Institute
The Confucius Institute at the University of Liverpool recently hosted an engaging and content-rich workshop focusing on the challenges of bilingual writing. British playwright Mary Cooper and Fan Yang Turner, a software engineer from Oxford University who writes poetry in both English and Chinese, led the workshop on Friday 1st March entitled From There to Here. Students from across the university joined faculty in exploring the specific challenges of writing in and across different languages.

In opening remarks, Dr Penny Ding, Deputy Director of the Confucius Institute shared her experience of writing in two languages, observing that bilingual writing is "a process that is related not only to the language used, but the ideas, emotions and connotations. It's not simply a challenge of words, but of communicating the same meaning in two different languages and across cultural boundaries."

Mary Cooper's multi-lingual play, From Shore to Shore, is based on a story from the UK Chinese community, which toured Chinese restaurants across the UK in 2017, and will be performed on March 19th and 20th at The Angel Restaurant in Liverpool.

In the workshop Mary and Fan provided participants with three themed writing tasks focused on different "moments": a moment of a departure; a moment of looking forward to the future, and a moment of reflecting on changes. Participants were encouraged to write as many details of the things that we see, hear, smell, touch, and taste in each moment and then connect them to form a coherent piece of writing. With these clear instructions, attendees were given the opportunity to learn through active engagement in bilingual writing.

Mary enthused and encouraged participants, asking them to "think of what you see, hear, smell, touch and taste (in these moments) and write them down. All the specifics. Don't stop writing if you really like it." Participants experienced a new way of thinking about expression in both English and Chinese and the nuances of communicating meaning in two very different languages. Dr Ding expressed her hope that the CI will provide more engaging activities and platform which introduce participants to new perspectives on communication between, across and through English and Chinese.