Chinese Culture Events at Museum of Liverpool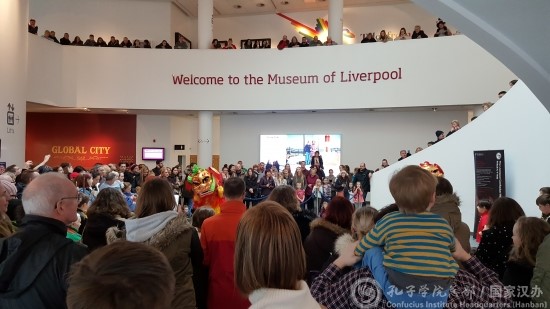 On Saturday 10th February, the Confucius Institute celebrated the Chinese New Year at the Museum of Liverpool.
At the lobby in the ground floor, joyous lion dancing, Chinese traditional harp music attracted large number of museum visitors. There was also Chinese martial arts demonstration. The brilliant performance won waves of applauses from the audience.
In the Chinese calligraphy workshop held in the Museum's education room, tutors from the Confucius Institute instructed children to learn and practice calligraphy, and explained to them the meaning of the Chinese characters they learned to write, and the Chinese New Year customs associated with these characters. Although it was the first time for the children to learn to practice Chinese calligraphy, some of them wrote quite beautiful characters. The calligraphy brought great fun to the children and they expressed the hope to have opportunity to explore more about Chinese culture.
Christopher Kerfoot, Education Team Leader of the Museum, said, the event was a huge success, and he hoped that Confucius Institute would organise more Chinese cultural events for general public.