I Got Hired: PhD Researcher at The University of Liverpool
Posted on: 3 June 2022 by Richard Finch in Graduate stories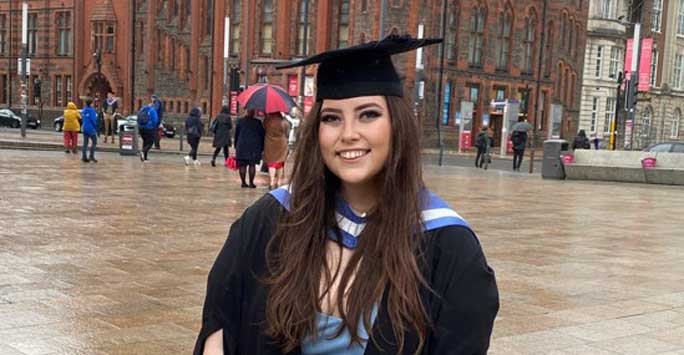 Abbie McCarrick is undertaking a Physics PhD at the University of Liverpool.
Tell us about your role and the organisation you work for
I am currently studying for a PhD in Physics in the University of Liverpool's Physics Department. Alongside this, I work as a graduate teaching assistant, supporting undergraduates through their taught courses and tutorials.
What is the most enjoyable part of your role?
I really enjoy having the independence to complete my own work and research, and make my own schedule/routine. I also really enjoy teaching the undergraduates, and I think this is something I could really see myself continuing with in the future.
How did you find out about this opportunity?
I found the studentship vacancy on FindAPhD and utilised the Career Studio on campus for help and advice on my application and preparing for interviews.
What are your three top tips for current students looking to start their career?
Do something you enjoy - it's easy to get swept away applying to any and all jobs, but try to prioritise roles you will actually enjoy! 2 - There is so much support on offer to you - utilise it! The Career Studio is free, drop-in and so useful.
There are tons of online resources on Handshake, as well as lots of events online and in person you can check out. Making connections and engaging in things like this will really make the difference in your job search. 3 - Don't beat yourself up - I got many rejections from both jobs and PhD positions and there were times when it really got me down and I felt like giving up, especially if it was something I really wanted.
But it's important to remember that so many of us are in the same position and its okay to feel disappointed (we all do!); so don't give up and don't worry - everything will be alright in the end and you'll get an amazing role! :)
---