Connect with us on Handshake
You can use Handshake to advertise your opportunities with us, sign up for our on-campus and virtual events, promote your own events to our students, and connect with great candidates – all free of charge.
Handshake is trusted by 900+ universities and 425K employers worldwide. Handshake's networked approach to connecting students, employers, and universities helps you to:
Target your opportunities to those students and graduates you want to receive applications from
Use the 'Quick Apply' facility to track applications within the system
List and manage your own scheduled events and book to attend on-campus and virtual events at universities using the platform
Encourage students and graduates to read your company reviews and testimonials
Reach out directly to students, and have them contact you
Manage multiple university relationships from a single system for free.
We can also feature and highlight employer attributes and strengths that students find valuable through Employer Collections. Speak to us to find out more.
Register as a new employer on Handshake here. If you are an existing user, see further information below.
Getting started with Handshake at the University of Liverpool

It takes less than five minutes to get set up as an employer on Handshake. Follow the steps below to join and engage with University of Liverpool talent.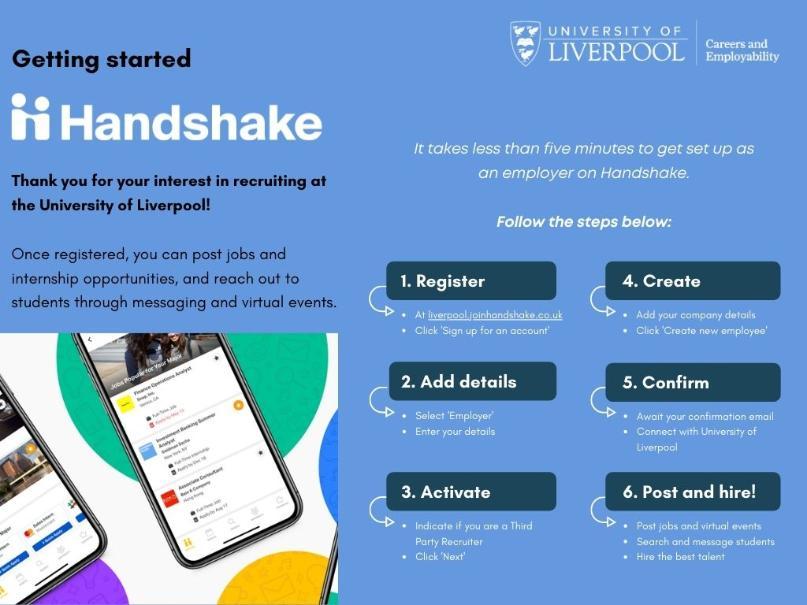 Our five top tips for creating your profile
To be eligible for approval at the University of Liverpool, please fill out your profile as completely as possible for students to review. Your profile will influence how students regard your employer brand, so it's important that it accurately reflects your organisation. Any of the information listed on your company profile can be edited at any time by the owner or admins on the account. We reserve the right to decline your profile if it does not meet these requirements.
Existing Handshake users
If you are already using Handshake to recruit at another University, you don't have to create a new account, just use your current login information. Then, click on "Institutions" on the left-hand menu. Click the "More Institutions of Handshake" tab, then select the University of Liverpool and click on "Request".
Handshake help centre
Full details of the terms and conditions for users of Handshake can be viewed here.
Once you have an account, you can use the Handshake Help Centre (accessed from within the system) to find helpful tips on how to post jobs and internships, edit your profile, how to register for events, and set up your own events and interviews.
You can also view Handshake's employer training 'How To' videos here.
Back to: Careers and Employability