Indrajeet Prasad's outreach receives India-wide media attention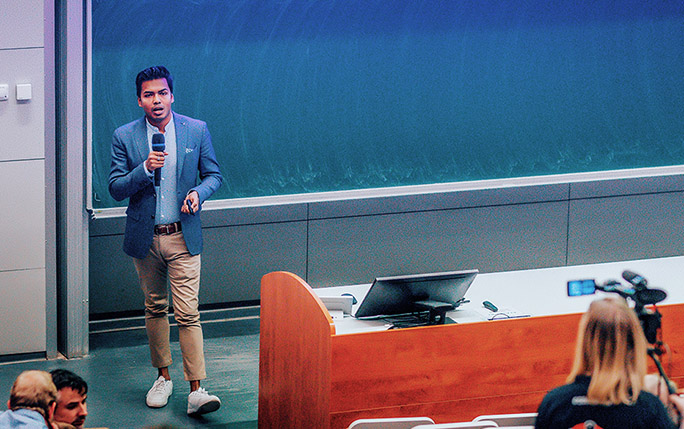 AVA Fellow Indrajeet Prasad, originally from India, is based at FOTON in the Czech Republic. There, he studies high stability, rampable power supplies for keV ion beams. Aside from his work for AVA, Indrajeet mentors' students from both his native and host country about studying abroad. Indrajeet is well placed to do this as, after graduating from the West Bengal University of Technology (India), he went on to complete a Master at the Wroclaw University of Technology (Poland), worked as a Researcher on a Marie Curie Project at the University of Brasov (Romania) and attended a short educational program at MIT (USA).
His excellent initiative to help students hasn't gone unnoticed and media in his home country India have published about his work. Amongst these are CNN-News18 India, Hindustan Times, The Statesman and Yahoo India. All these media show how much Indrajeet's work is appreciated:
"Indrajeet is not your regular NRI based in Prague but he continues to make his country proud by mentoring Indian & Czech students and helping them find the best research opportunities in Europe. This humanitarian step to aid young students to pursue an education abroad comes from Indrajeet's innate desire to see brilliant young minds employed in the right direction" – Hindustan Times
"Through his work on social media, Mr. Prasad is providing a powerful platform for free information that is helping Indian students to accelerate their careers in the right direction" – Yahoo India
Indrajeet mentors Indian & Czech students to find the best research opportunities under EU research programs and provides guidance to Indian students wanting to study abroad. To connect with the students, Indrajeet has an active presence on social media platform Instagram. Via his Instagram account, where he reaches over 100,000 accounts a month, he holds LIVE-Q&A session to talk about the challenges and benefits of studying abroad. Furthermore, he helps the students connect with scholarships and provides useful information for those pursuing research opportunities in Europe.
As part of a Live Webinar Series where industry influencers inform students in India on careers and entrepreneurships, organized by The Taruna & Co. (India) and which took place last month, Indrajeet presented a Webinar 'Career Talk' on Scholarships and Admissions Abroad.
With his Fellowship being supported via the Marie Skłodowska-Curie Actions, Indrajeet also speaks at many public events about Marie Curie Fellowships and he has been an invited speaker at events organized by various career counseling agencies in India.
Public engagement is an important and integral part of the training of all AVA Fellows and Indrajeet has shown how to do this very effectively using social media.