Crusader

584 tons.

Extract from Liverpool Hurricane of 1839 by C. Michael (with permission).

The Crusader was a full-rigged vessel with copper sheathed hull trading to the Far East and she was carrying a cargo valued at £100,000. She left Liverpool bound for Bombay laden with silk and was driven back by the hurricane towards the Lancashire coast. She was driven ashore on North Bank opposite Starr Hills near St. Annes - on what has since been called the Crusader Bank. Captain Wychmann and crew saved themselves in their two ship's boats, after pouring oil on the sea to calm the waves. She was a total wreck.

Some of her cargo of silk was salvaged and five men from the nearby village of Marton were imprisoned when silk was found hidden in their possession.

Additional Information: Barrels of beer consigned to India were recovered and sold at auction in Liverpool, described as "India Ale". The beer was favourably received and this is seems to be the origin of this beer variety. [see also here]

Sketch of Crusader (by Tony Lees from Catherine Rothwell's book Shipwrecks in the North-West):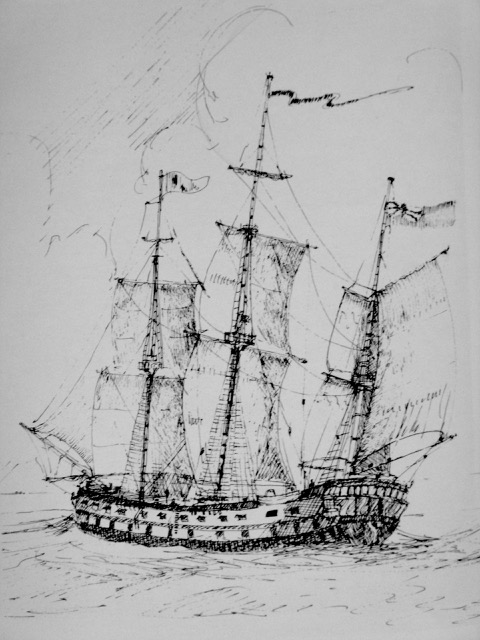 Report of diving operations to recover some of the cargo of the Crusader in 1839.
The Crusader was reported as ashore opposite the coastguard's house on the South Shore, on what was called Horse Bank. It then became known as Crusader Bank. Offshore of Crusader Bank, wreckage was discovered in 2012 at 53°46.751N, 3°5.068W and is charted as Wr 1.4m in general depth 3.2m. This is of a depth that could be the remains of the Crusader. For a recent sonar survey of this site see here.
&nbsp The modern Lytham St. Annes CG station is at 53°45.63N, 3°2.735W, which is 1.7nm at 310° to that wreck site; but in 1839 the CG house may have been elsewhere.
Additional wrecks nearby at the same time (from Liverpool Hurricane of 1839)
Favourite
Brig, registered London.
Commanded by Captain Wood, she was on a passage from Liverpool to Genoa with a cargo of tobacco when wrecked near Blackpool on the Crusader Bank. All the crew were lost.
Ann Paley
167 tons, owned Bibby, built 1827 Liverpool.
Sailing from Liverpool to Lisbon with a cargo of tea under command of Captain Hunter, she was driven on shore near Cleveleys (North of Blackpool), three men drowned.
&nbsp She was reported to have been refloated on 20 April and taken in to Fleetwood.