I then headed about 4 miles north to explore the wreck, charted since 2012 at 1.4m below CD. This is about 2.4km south-west of Blackpool South Pier. My depth survey is here (depths in metres below CD using tidge gauge at Liverpool):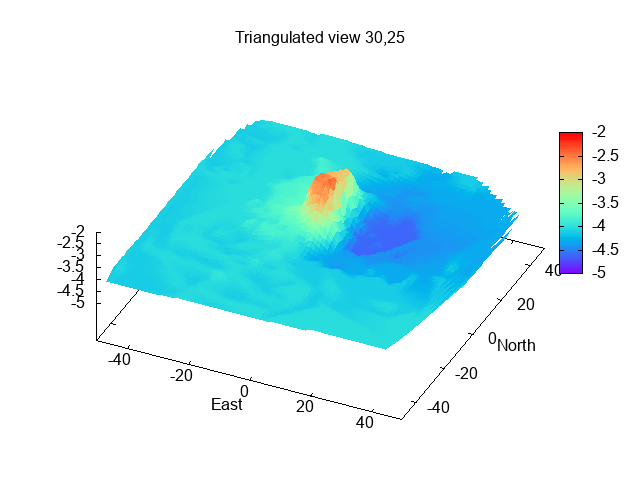 This plot agrees nicely with the survey report that "wreck is intact, lies N-S, bow to S, 23m long, 8m wide, height 2.3m, 1m deep scour extends 50m to east".
&nbsp I am interested to hear if anyone knows, or finds out, more about the identity of this wreck. The scour suggests that the site has current at times, and water can be quite silty, though the wreck is very shallow at LW.
&nbsp I am also interested in the scour pattern - usually scouring occurs where there is stronger current - such as at the edges of a wreck that lies across a current. A scour at one side only suggests a current that flows mainly one way - to the west in this case - scouring the upstream side. Maybe the ebb current is much stronger than the flood, or there is a gyre (eddy) at times.
From the wreck location, views of Blackpool (Tower and S Pier; Big One):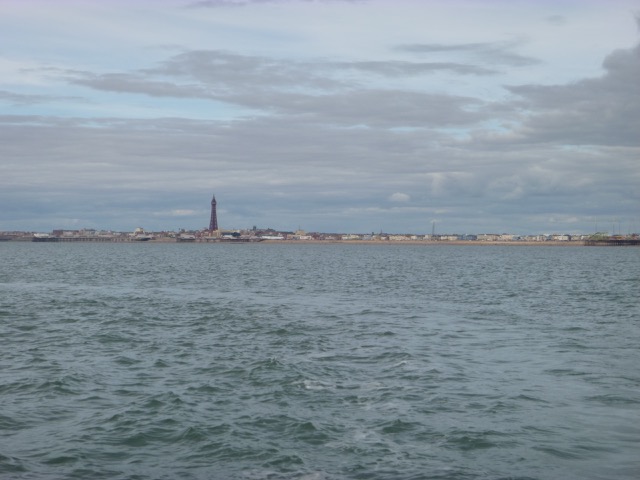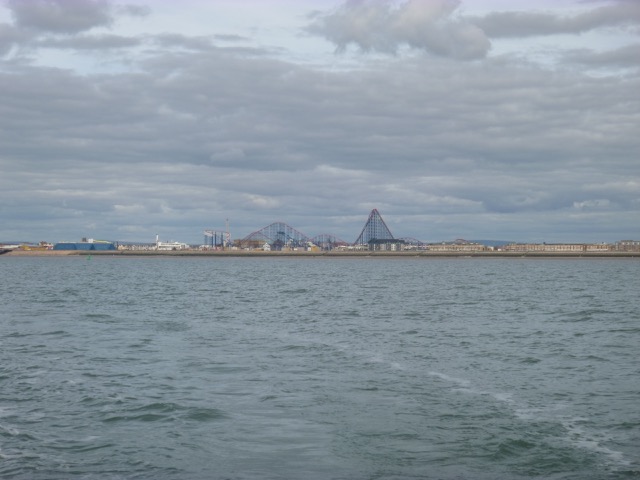 View of St. Annes: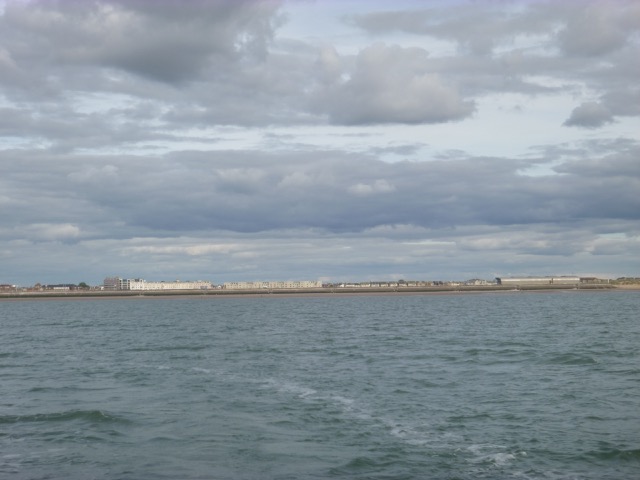 On my return I recrossed the Ribble Bar - to get some more depth readings (included in plot above), then passed the buoy marking the wreck of the Zealandia off Southport. The wreck was breaking through the surface (visible inshore of buoy) as I passed at 5:50. It is charted as drying 5m and tide at Liv was then 3m, so it should have been dry by about 2m):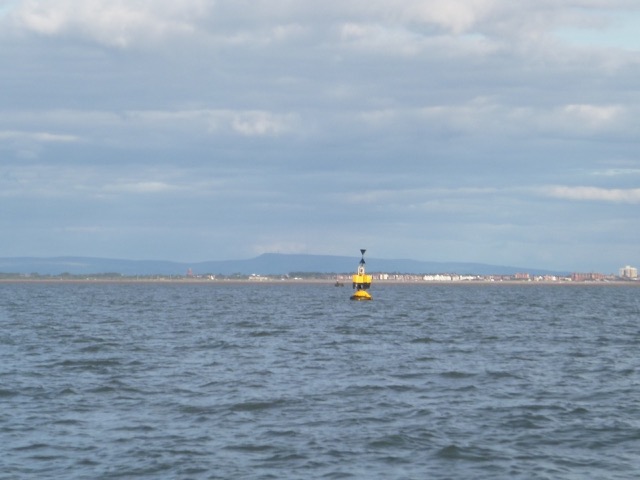 View of Southport (inverted V-shaped object is the Frisbee ride at Pleasureland).

As I headed south, inside the Lennox rig, I saw spray being sent up from an area of sea. At first I though it might be a pod of porpoises, but it is more likely that it was from small fish being pursued by a shoal of mackerel. There were no seabirds diving, however.
I also saw an inshore lifeboat speeding past Southport - it was B-837 which is New Brighton LB and it had been launched at 4:01, presumably for a training run.
I reached buoy Alpha at 7:04. The large container vessel Altlantic Sea (296 x 38m) was inbound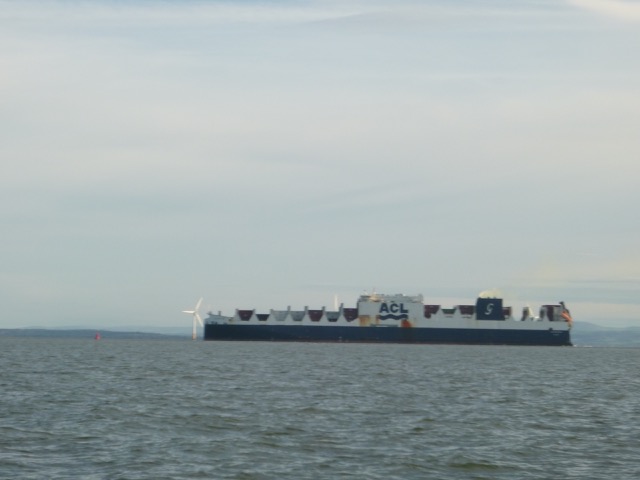 She was met off Seaforth by several tugs who swung her ready to enter Gladstone Lock.
Visibility was excellent all day. The Cumbrian mountains and Snowdonia could be seen clearly. Snowdonia: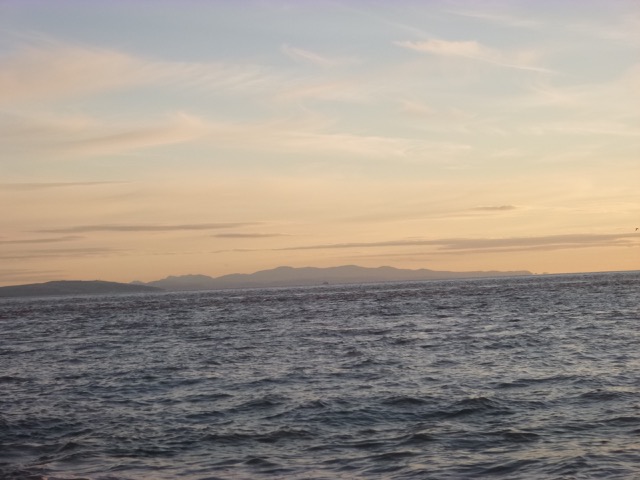 Another view of the jack-up rig off New Brighton: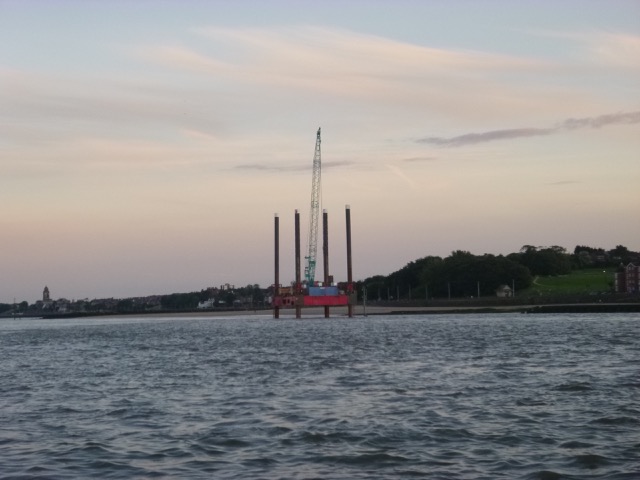 I reached the marina at 8:20 and entered the marina lock at 8:40pm with three yachts and two other motor vessels.
59.0 nautical miles run.
If higher resolution versions of the above images are wanted, please contact me. All information given in good faith, but please do not rely on it.
Back to index here