MARLIN trip to Colwyn Bay, Red Wharf Bay and Llandudno Bay 13-14 May 2019
Monday 13 May. Liv HW( 6:37(7.9m); LW 13:36(2.3m); HW 19:24(7.9m)). Forecast high pressure with wind NE veering to SE. Plan to visit some "Bays" using my tender to go ashore.
Into river from marina at 8:07 and proceed out via Rock Channel. Calm and mostly sunny. SE 2.
Construction at Cammell Laird's: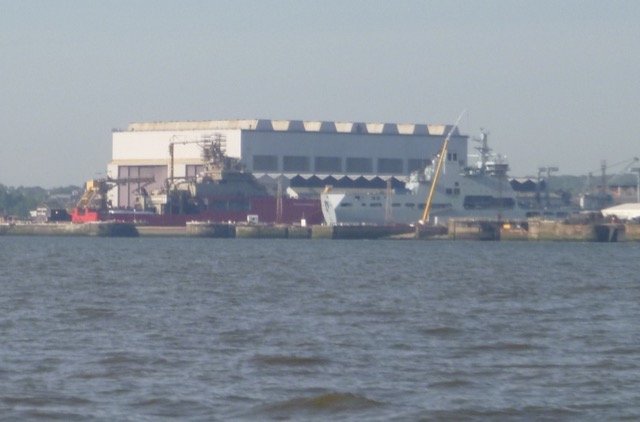 Head out through Rock Channel and then west along coast to Colwyn Bay. Near the Meols Buoy (Pipeline) a work-barge Torch and a diving rib Thumper were at work. The off-shore wind turbines were hardly turning and it was sunny.
Reach Colwyn Bay at 12:18 and anchor in 1.7m under my keel just off the buoyed fairyway into Porth Eirias Watersports Centre (which also hosts Bryn Williams restaurant). Row in to shore and leave tender just above tide-line (tide was ebbing still).
Porth Eirias: View ashore and view of Marlin from the shore: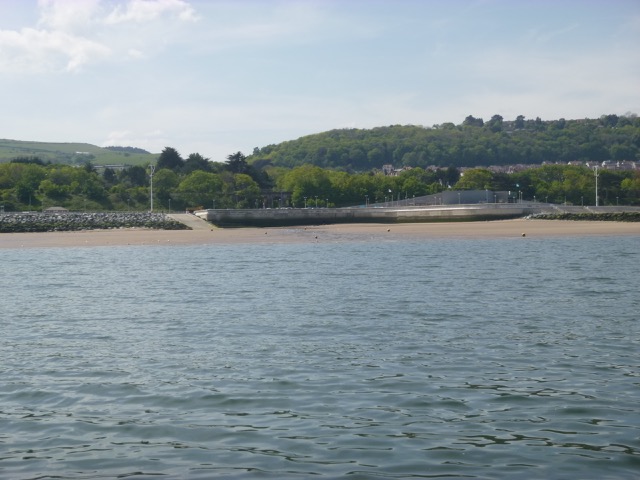 &nbsp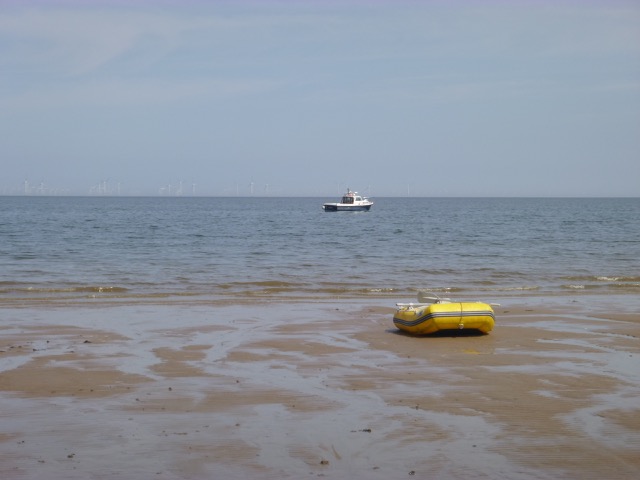 After refreshment, row back out and set off at 1:40, heading round the Little Orme. The current was starting to pick up and was adverse off the headland.
In Llandudno Bay, I was surprised to see, what looked like a cruise ship, anchored. AIS indicated that it was the Hebridean Sky (a Noble Caledonia cruise ship which takes 120 passengers maximum on "adventures" and "experiences". It is 4200 tons, 90m long by 15 m wide). They use what they call "Zodiacs" (RIBs to me) to ferry passengers back and forth to shore - presumably to the wooden jetty at Llandudno (see more below) to go to Bodnant or to look at the birds on the Great Orme cliff,.. It was on a one week cruise from Plymouth to the Clyde with calls at Scillies, Lundy, Skomer and Peel as well as Llandudno.
Hebridean Sky anchored in Llandudno Bay - with "Zodiac" transport.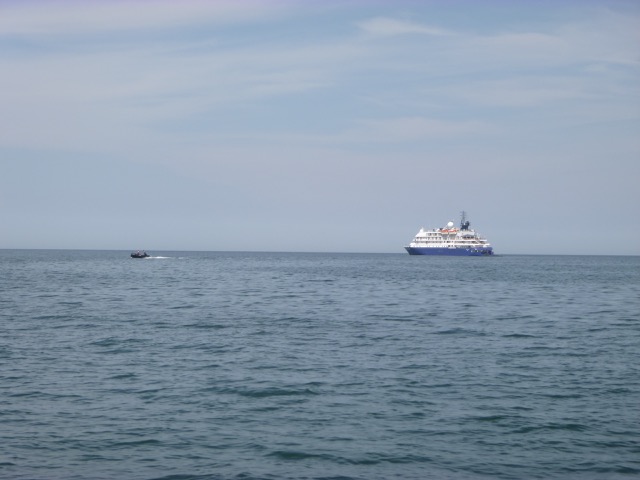 Cliffs of the Great Orme with Hebridean Sky anchored in the distance.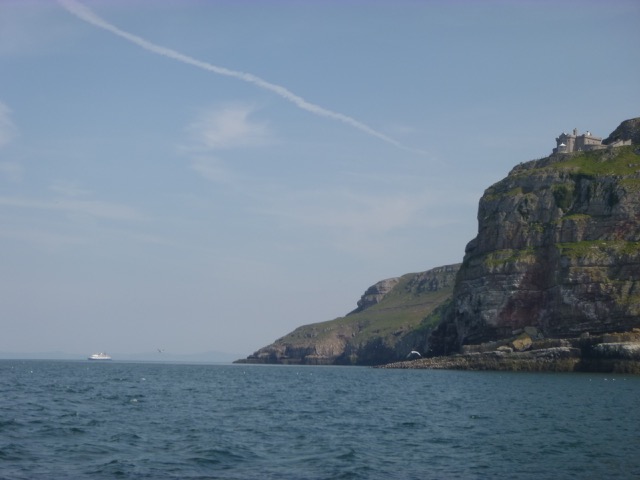 Birds congregating on the rocky ledge at the base of the Great Orme Headland.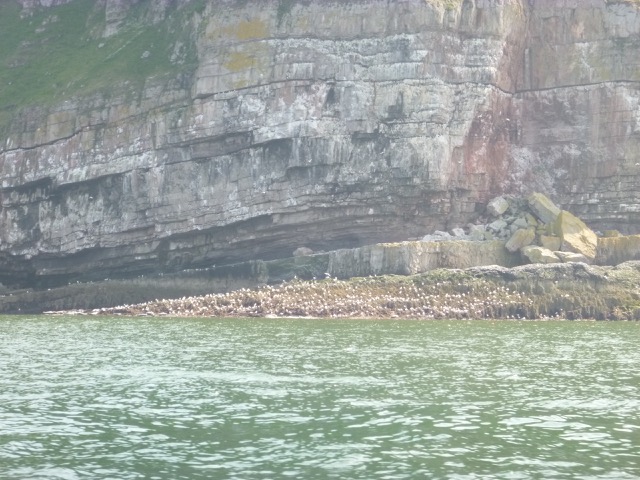 I passed the Great Orme at 2:55pm and headed for Puffin Island which I reached at 3:50. There are usually seals lounging on the rocks on the NE tip, but they were not very conspicuous on this occasion.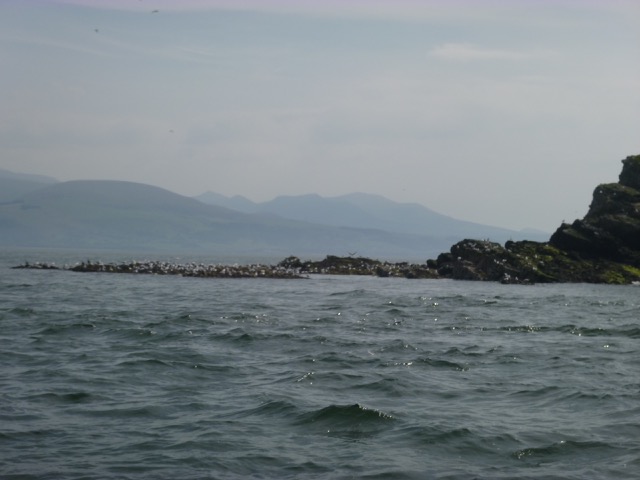 Having passed along the NW side of Puffin Island, I followed the coast of Anglesey NW to Red Wharf Bay. This coast has many signs of quarrying in previous times.
A secluded beach with the Llanddona TV mast behind.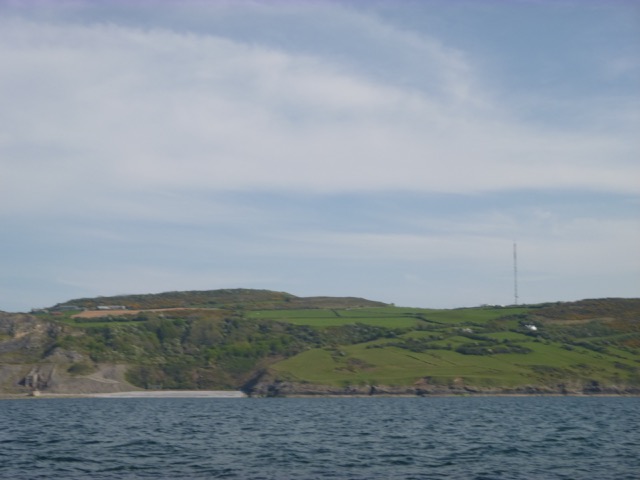 By 4:55pm, I was off Red Wharf Bay (Traeth Coch in Welsh), and had located the fairway buoy (small red/white buoy on the northern extremity of the bay). The buoys are locally laid and I was pleased to see them in place in May (presumably they are re-laid after each winter) The buoys are mostly gates (red and green close together) and the deepest channel is actually quite narrow.
&nbsp From previous trips in 2014 and 2011, I had had an opportunity to inspect the channel at low water on foot: although the deepest channel is narrow (like a small river), the sea-bed on the shore (west) side does not rise very quickly. I was coming in on a making tide, which allows easy correction if you run aground.
The most spectacular landmark is the rectangular outcrop of Castell Mawr just west of the channel in: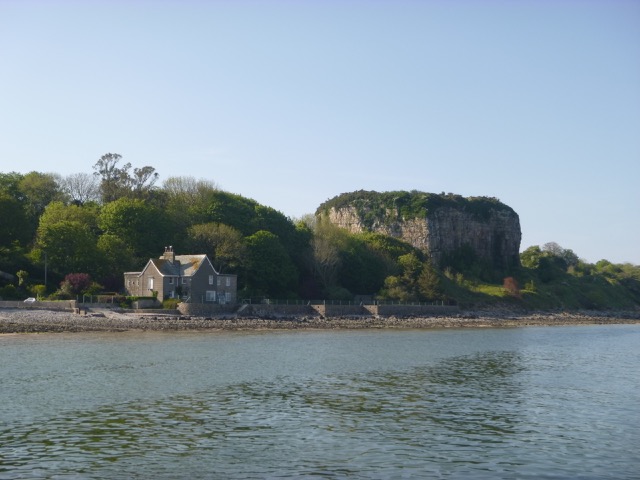 By 5:15 I was anchored with 0.9m under my keel (this was about 2 hours before local HW). Finding a good place to dry out is a bit tricky: the edge of the deep channel can be locally steep and not suitable, there are some isolated stones (mostly under the sand but acting as a hold for seaweed), and near the permanent moorings there may be foul chains, etc.
&nbsp The other catch is that where you throw your anchor is not where you will end up - the ebb tide and wind will move you some way.
The moored vessels at Red Wharf Bay: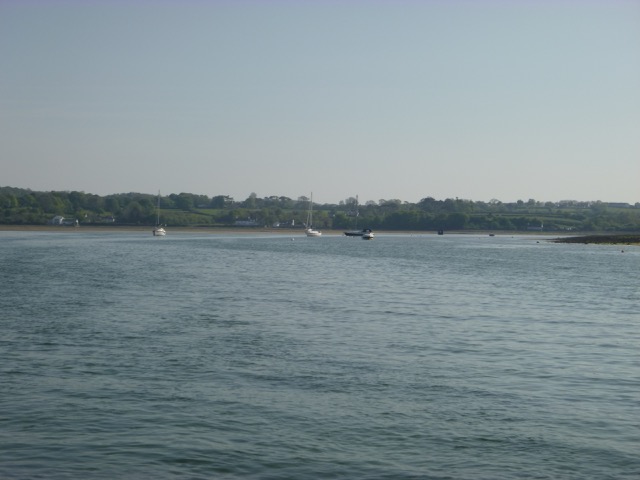 I rowed ashore in calm conditions to land near a slip.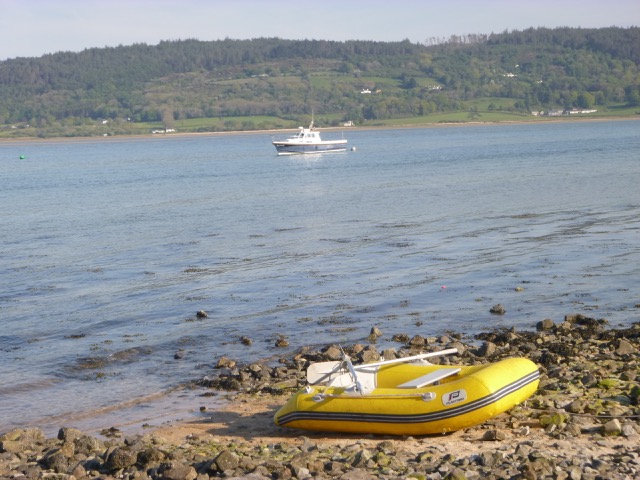 As I walked along the shore, I came to the crucial signs: where to eat (Ship Inn or Boathouse Restaurant):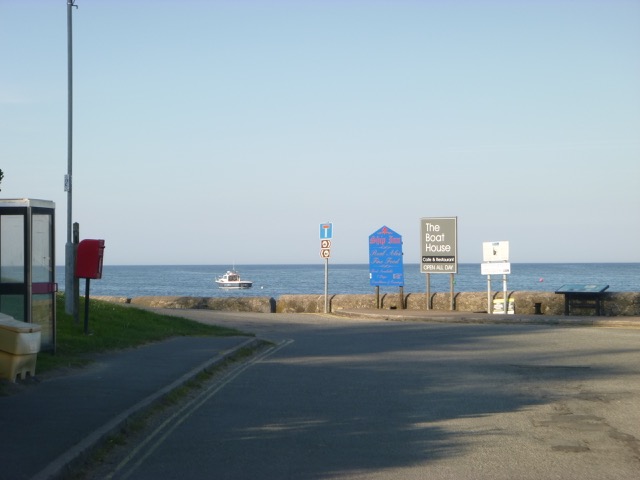 I have eaten in both - but the real ale option (Timothy Taylor's Landlord) won my vote so I went to the Ship Inn.
I was back aboard by 7:05 when the current was fairly slack.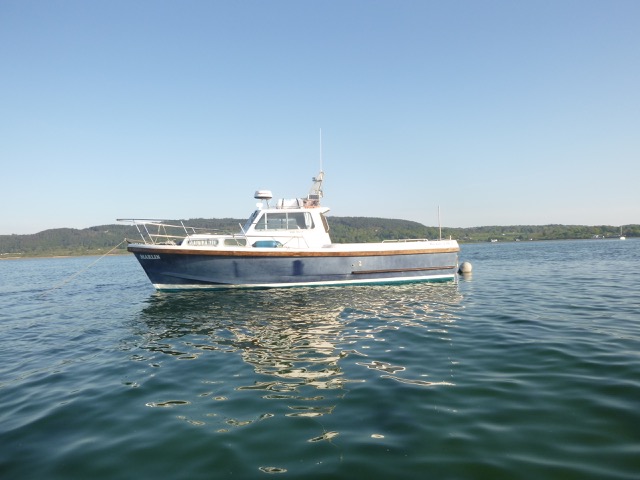 The tide ebbed and I felt a little bumping as Marlin took the ground around 9:30 (some very slight swell from the NE wind during the day had persisted). It was clear enough to see the bottom and I could check that no large stones were around.
Plot of seabed depth (as height above CD, using tidegauge for Llandudno) in metres for the area where I anchored. Deeper channel is shown at right (drying circa 3m) and anchorage is west of that.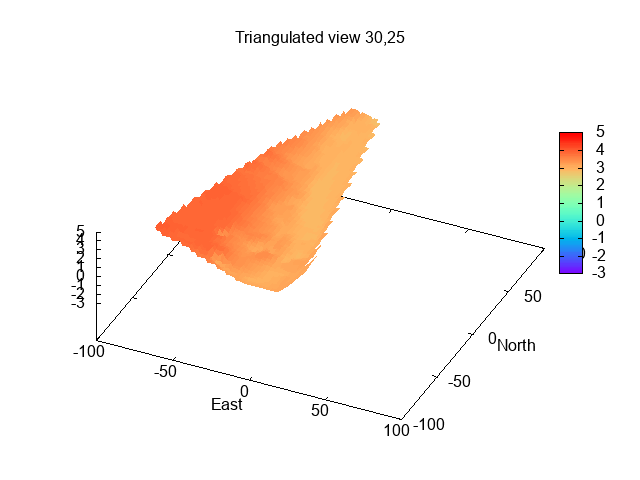 Tuesday 14th May. (Liv HW 7:23(8.2m); LW 14:51(2.0m); HW 20:36(8.2m)). Initially calm and sunny, I upped anchor and left about 6:20. I prefer to transit shallow areas on a making tide. It was calm off shore and I took advantage to do a few boat chores.
In the morning sun, Castell Mawr was even more inpressive: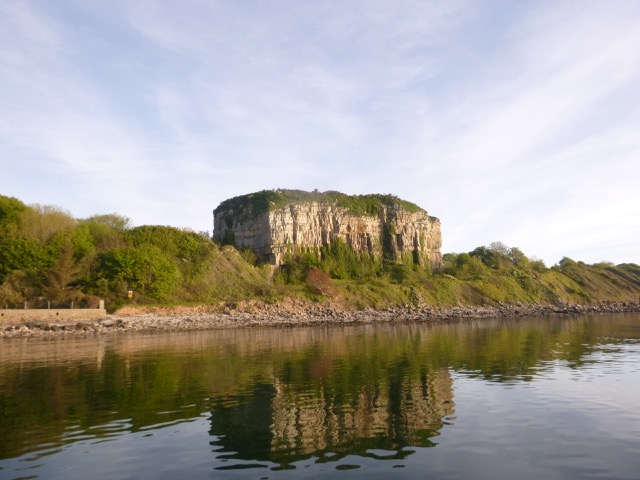 I headed for Great Orme - passing Puffin Island.
&nbsp View of the sound between Puffin Island and Anglesey (Trwyn Du) with Snowdonia behind: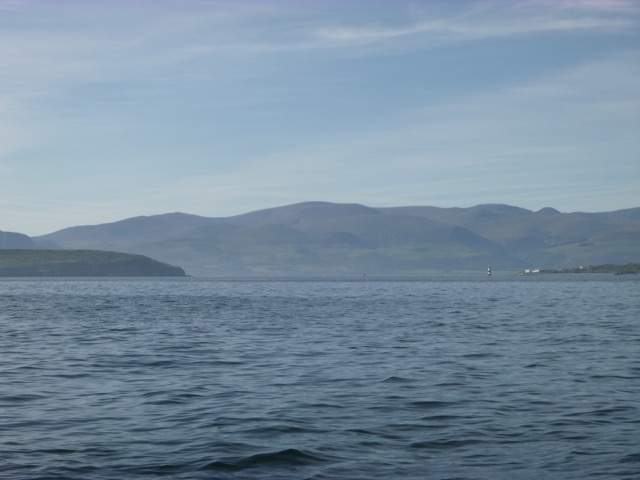 Although I have passed Llandudno many times and I have waited in the Bay for the tide to turn to a favourable direction, I had never gone ashore at Llandudno. The Victorian Pier is not available for leisure boats. The Bay used to have a reputation as having poor holding but in fairly calm weather that should be manageable. I duly anchored near the small wooden slipway/jetty - this is between the Pier and the broad concrete slip (marked as lifeboat slip on the chart, although a new lifeboat station was built in 2017 further east at Craig y Don). This jetty is mainly used by tripper boats to load/unload passengers. It has a perch marking its end, does not extend to the LW mark - and some temporary jetty extensions were stored on the beach.
&nbsp I checked that the anchor was set and then went ashore from 10:15 to 11:23 and was able to get a coffee and something to eat.
The Jetty at Llandudno (at about 3.5 hours after HW Liv):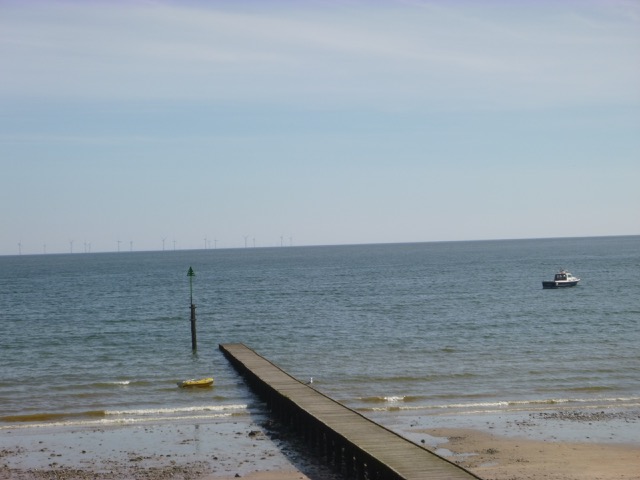 Llandudno Pier: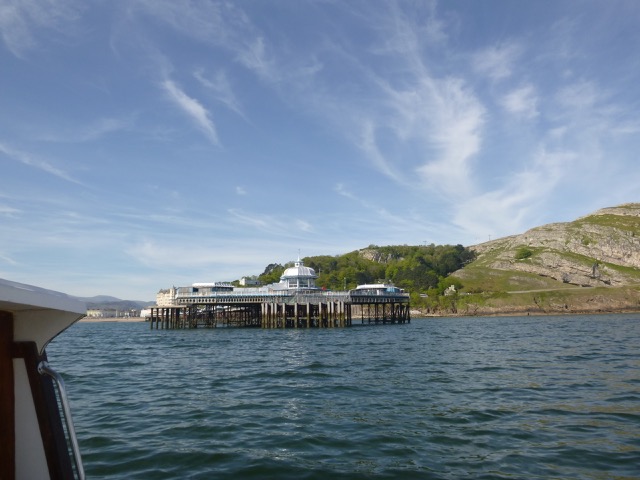 I proceeded slowly, against the tidal current, around Little Ormes Head - I had been intending to visit Rhos and go ashore there. The wind was forecast to be SE, but either from the effect of land, or from sea breezes, it was blowing from the east - and making quite a lumpy sea - too steep for landing on a lee shore.
Instead I carried on slowly (better fuel consumption) towards the Wirral - calculating that in a fresh E or SE breeze, Leasowe would provide a calm anchorage to wait for the Marina to open at around 7pm.
En route, I was able to test out the depth crossing the East Hoyle spit using my waypoint which does seems to be in the deepest area. Moreover, it was 4:20 (Liv LW + 90 mins) when I passed south of the eastern end of the East Hoyle Bank and it was still (just) dry - so it must dry around 3m above CD. This agrees with my previous recent observations - I found a depth of 2.5m above CD on one trip over the Bank. The latest HO chart does not adequately reflect this situation: giving maximum height of 1.9m at a location somewhat further west, from a survey between 1973 and 1989.
East Hoyle Bank (sandy streak just uncovered) with Meols (Pipeline) Buoy (yellow) and the SE-most turbine of Burbo Windfarm (red object is a vessel working on the pipeline):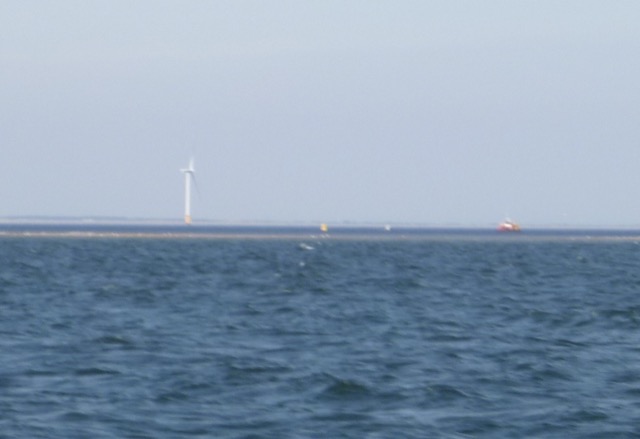 I crept into Leasowe - the approach channel into the drying moorings at Meols. I anchored at 4:30 with 0.6m under my keel. There was quite a strong breeze, but the location was sheltered by the sandbanks and shore - so no significant waves.
I set off again at 5:45 and had enough depth [1.2 m under my keel] around 5:55 to cross the North Bank due west of my waypoint Corner.
Two MSC vessels [Pilar and Poh Lin] loading containers on the Liverpool2 in-river terminal: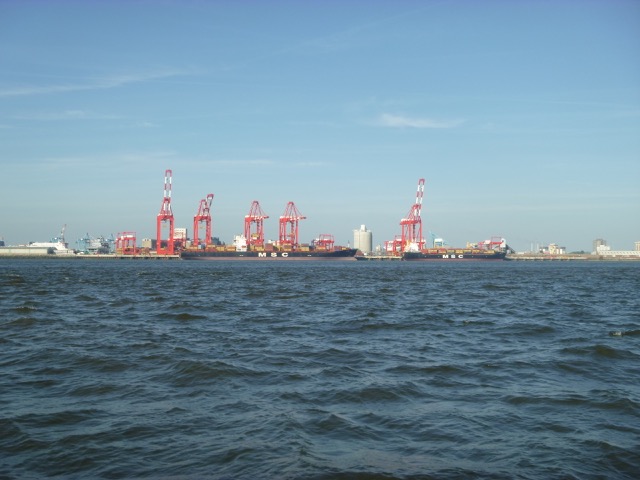 At 7:00 I locked into Liverpool Marina with Discovery, Thumper and Lady of Erne.
Trip 50.5 nm out; 51.6 nm back. Mostly at low revs - so only around 10 gallons used.
A record of the depth and track of my voyages are available from teamSurv
If higher resolution versions of the above images are wanted, please contact me. All information given in good faith, but please do not rely on it.
Back to index here