My track and depths to Morecambe (at top right) (reduced using Heysham tide-gauge to CD) with distances in metres (from this trip and previous) and waypoints: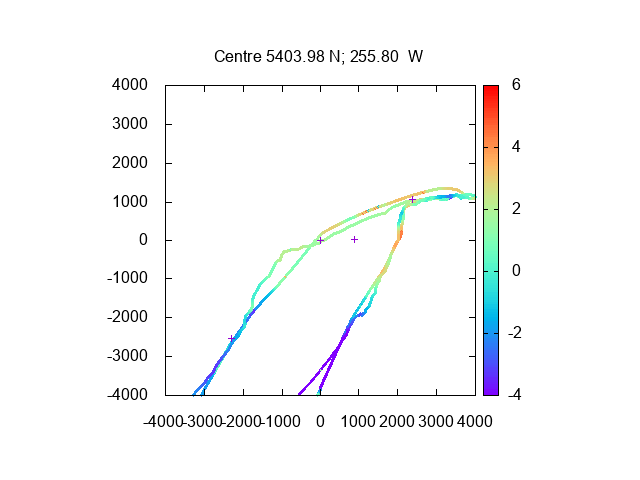 From the tracks of this trip, I revised my waypoints slightly to:
MCB1 54 2.64N, 2 57.86W
MCB2 54 3.98N, 2 55.80W
MCB3 54 4.55N, 2 53.65W
Note these waypoints do not represent the best or deepest route - they are just what I used on one trip.
Wednesday 27 June. Liverpool LW 06:00 2.0m; HW 11:34 8.6m.
Since I had some boat problems (24 volt to 12 volt dropper serving autopilot had failed - so hand steering required which is tedious when single-handed), I decided to head back to Liverpool in time to make the midday lock opening - then do repairs there. To get tidal assistance, I set off at 4:25 (1:35 hours before local LW). The current was quite gentle and the anchor came up easily. It was already light enough to see and sunrise was soon afterwards. Another sunny and fairly calm day.
I passed Heysham at 4:35; Fleetwood at 5:18; Blackpool at 6:40; Ribble Gut Buoy at 7:48; Lennox Rig at 8:24; and joined the Liverpool Shipping Channel at buoy Alpha at 9:13. Current was mostly favourable except for a period off the Ribble entrance. I locked into Liverpool Marina at 10:28.
Stena Hibernia (Belfast-Heysham) entering Heysham; sunrise over Heysham.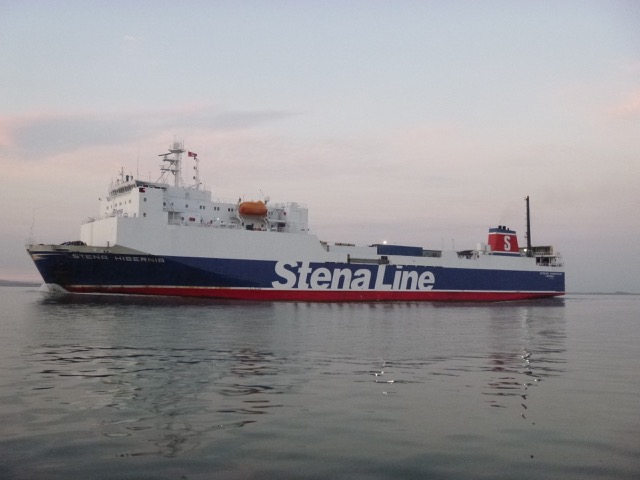 &nbsp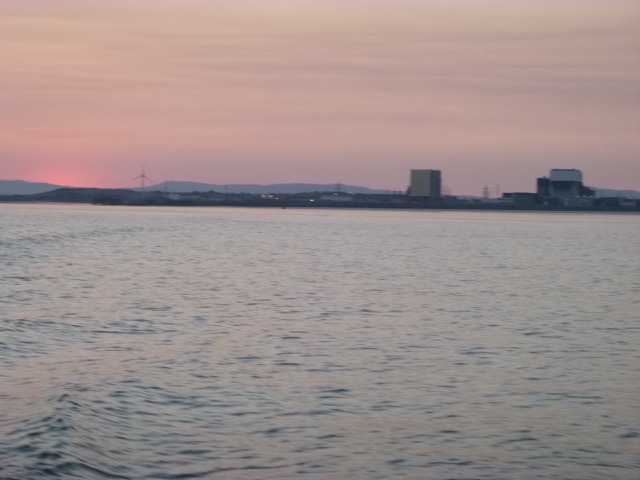 Buoys: Yellow off Blackpool (west of South Pier); Ribble Gut (Ribble Fairway buoy - "Rib Gut" which sounds painful).

&nbsp
Black Watch at Liverpool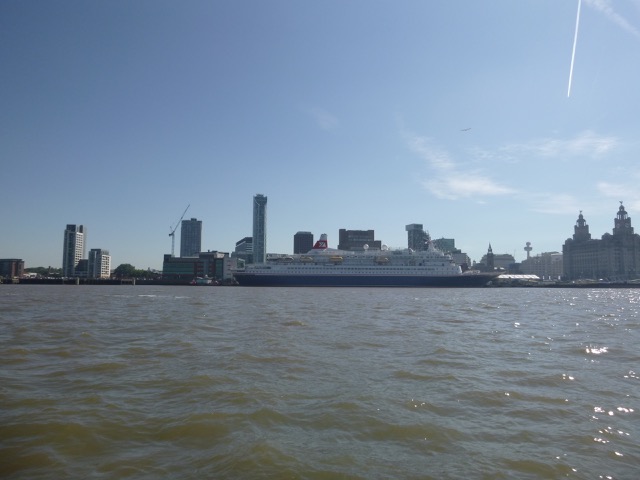 Trip mainly at my displacement speed of 7 knots through the water. Total distance 97nm.
A record of the depth and track of my voyage is available from teamSurv
Clicking on an image should give a higher resolution picture. If even higher resolution versions of the above images are wanted, please contact me. All information given in good faith, but please do not rely on it.
Back to index here