Empowering young people in the digital age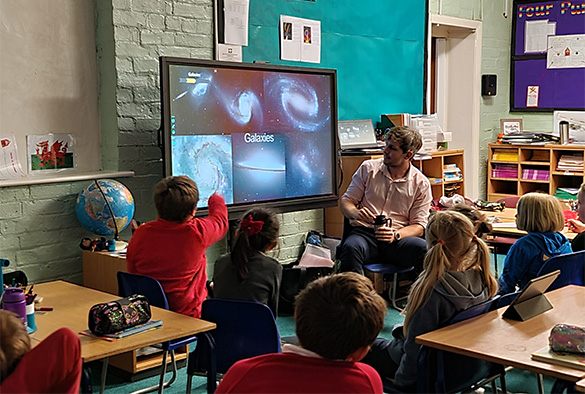 Current Careers Education, Information, Advice and Guidance (CEIAG) often does not consider the changing nature of many industrial sectors and how the associated future career opportunities for young people are being affected by these rapid developments. The UK charity 4wardfutures aims to disrupt, enrich and empower CEI, schools' curriculum and post-16 training provision through collaborations with employers, individuals, universities and professional institutions. Their mission is to empower young people to see what they can do and what they can be in their career journeys in the digital age.
QUASAR Group member and Liverpool Data Science Fellow Dr Alex Hill has been working with the charity 4wardfutures to deliver outreach events to local primary schools in North Wales and the North West of England.
The very successful 'Eyes to the Sky' initiative is a STFC-funded project aimed at introducing 8 – 12-year-olds to researchers who are studying the Universe and address the questions "What's in outer space?" and "How did the Universe begin?".
Through a programme of in-person workshops, Dr Hill delivered informal presentations on both his research relating to computational studies of galaxy formation, and astronomy more broadly. "The enthusiasm of the young learners is incredible" he said. "They are fizzing with curiosity and excitement for all things space. Their questions are so insightful, they often leave me stumped!"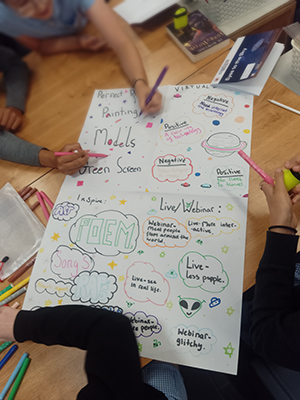 Engaging activity during one of the workshops.
After learning more about astronomy, the students create exciting space-themed exhibitions to be presented in a virtual art gallery.
Discussing the project, Jan Meaden, Headteacher of the twinned Nannerch VC and Nercwys CiW Primary Schools in Mold, said "I found it fascinating. The learners were in awe of Dr Alex Hill who came in to speak to the learners. He did an amazing job of sharing his experiences and the work that he had been involved with."
One of the pupils, said "I think the Eyes to the Sky project is so interesting, and I think space is really pretty and I can't wait to start making space art to put in the gallery". Another student commented "I enjoyed learning from Dr Alex about how galaxies are created and the difference between red galaxies and blue galaxies".
Following the successful collaboration between the Dr Hill and 4wardfutures, the Department of Physics has been excited to support the charity in their bid to STFC to fund their new proposed WATMO (What are things made of) project. If successful, WATMO will involve accelerator science and particle physics PhD students working closely with apprentice engineers from the Daresbury Laboratory.
The group will receive training in delivering workshops and communicating their work to school students. They will then visit schools and deliver the workshops they have co-created.
Dr Hill said "I was incredibly excited when I heard the aims of the WATMO project. Public engagement is a key pillar of modern academia, so to receive training from experts at 4wardfutures at such an early career stage is a real opportunity. I have had a wonderful time contributing to the Eyes to the Sky programme, and I'm confident that WATMO will be just as enjoyable for all involved".
Schools interested in discussing the Eyes to the Sky project are invited to contact Mark Waters at mark@4wardfutures.org.uk. For other queries, please contact Dr Hill at a.d.hill@liverpool.ac.uk.