Directors of UK Centres for Doctoral Training in Big Data Science meet in Liverpool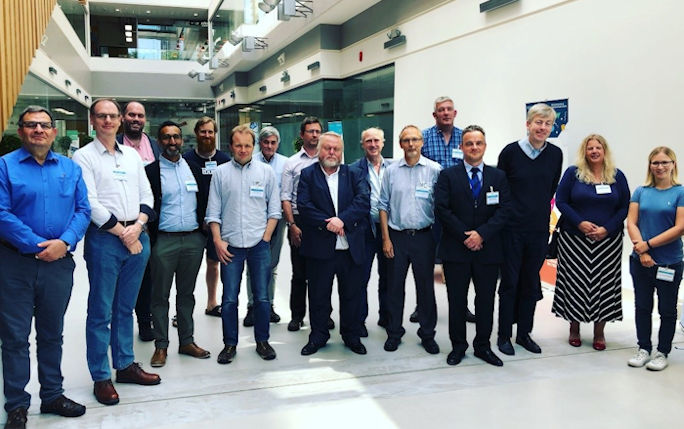 Last year, the UK's Science and Technology Facilities Council (STFC) invested almost £10million to train the next generation of experts in Big Data Science. This allowed a first cohort of around 100 PhD student start at eight different centres distributed across the UK, including LIV.DAT, where 14 students commenced in October 2017 on a joint venture between experts from Liverpool John Moores University and the University of Liverpool.
Each centre includes industrial partners and offers comprehensive training in data intensive science through cutting edge research projects and a targeted academic training programme. The latter consists of university lecture modules, targeted international training, and secondments to national and international partners, often from industry.
On 14th June 2018, the directors and training leads from all UK centres met with STFC's Director of Science Programmes, Professor Grahame Blair, Head of Education, Training & Grants Policy, Dr Andrew le Masurier, and Clare Heseltine from the Education, Training and Careers Programmes Directorate.
The day-long meeting gave an insight into the research and training programmes at each of the centres, highlighting best practice and common challenges. The varied training offered by LIV.DAT to its students provided a good example of the broad skills basis that CDT students acquire during their training. The many different contributions by industry partners, from student supervision, to taking a lead role in training events and offering secondment opportunities were highlighted by all centres.
Professor Carsten Welsch, who is director of the Liverpool centre, says: "Many inter-disciplinary links with researchers from outside of the original CDT framework have been established since the start of this national initiative. These were found to be particularly beneficial for the students. We also observe that there is a demand across the UK for significantly more highly trained experts in this important research area."
A second cohort of students will start in October 2018. In the case of LIV.DAT, around 15 students will carry out research across all three scientific work packages: Monte Carlo simulations, Machine Learning/High Performance Computing and Data Analysis.
Researchers interested in applying for one of the available LIV.DAT positions can find more information here.