Accelerators experience days for teenagers at Daresbury Lab
After the success of the interactive accelerator workshops for teenagers held last summer at the Cockcroft Institute, the Quasar group decided to organise two more workshops in January to give more children the opportunity to become accelerator scientists for a day.
The events, funded by the Royal Academy of Engineering, saw over 70 children from Shevington High School (Widnes) and The Heath School (Runcorn) overrunning the Visitor Centre at Daresbury Lab to learn about particle accelerators. The children had the unique opportunity to mingle with real scientists, getting their hands dirty by building their own accelerators and doing experiments on electromagnetism.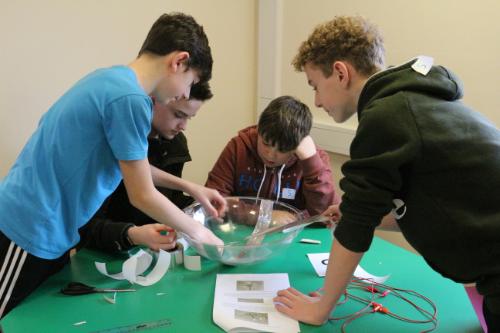 The whole Quasar group was involved in supervising the students and demonstrating the experiments, which included a Van de Graaff – powered 'salad bowl accelerator', a Gauss rifle, and a rail gun. They also had the chance to record their experiments in video in order to share their experience.
‌
Seeing their enthusiasm, it wouldn't be surprising to see them coming back to Daresbury in a few years-time… as professional scientists.