Thermo Fisher Scientific CIDTEC Cameras & Imagers
Contact: Tony Chapman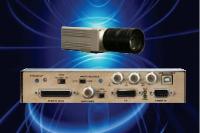 Thermo Fisher is the world leader in serving science, enabling our customers to make the world healthier, cleaner and safer. With annual revenues of more than $10 billion, we have approximately 35,000 employees and serve over 350,000 customers within pharmaceutical and biotech companies, hospitals and clinical diagnostic labs, universities, research institutions and government agencies, as well as environmental and industrial process control settings. Serving customers through two premier brands, Thermo Scientific and Fisher Scientific, we help solve analytical challenges from routine testing to complex research and discovery.
Thermo Scientific offers customers a complete range of high-end analytical instruments as well as laboratory equipment, software, services, consumables and reagents to enable integrated laboratory workflow solutions. Fisher Scientific provides a complete portfolio of laboratory equipment, chemicals, supplies and services used in healthcare, scientific research, safety and education.
The CIDTEC Cameras & Imagers product line has successfully collaborated with Universities and large research centers in the past, and is the direct partner within oPAC.