Professor Sir Roger Penrose to deliver the 2018 Barkla Lecture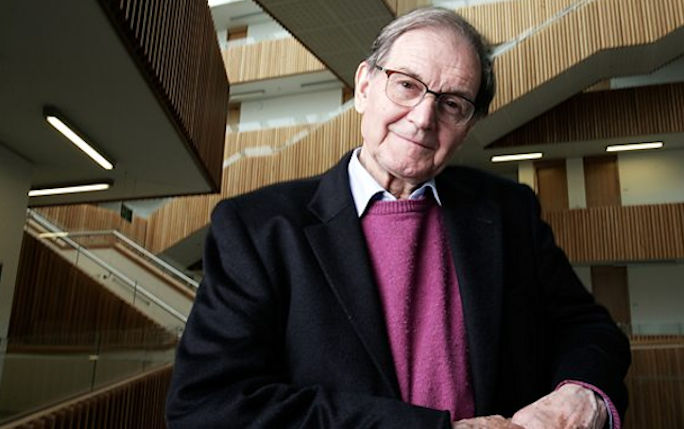 The 2018 Barkla Colloquium in Theoretical Physics will be given by Professor Sir Roger Penrose OM FRS, and is entitled "Hawking Points".
The lecture will take place on Thursday 22nd November at 4:00pm in the Chadwick Lecture theatre (previously announced as Rotblat Lecture Theatre), Chadwick Building.
Sir Roger Penrose is a mathematical physicist renowned for his contributions to general relativity, cosmology and black holes. His work has revolutionised the mathematical tools that we use to analyse spacetime, and has greatly enlarged our understanding of the origin and possible fates of the Universe.
He has also made fascinating works that explore the connections between consciousness and fundamental physics. He is the author of several academic and popular books, including the best-selling "The Emperor's New Mind: Concerning Computers, Minds and The Laws of Physics".
Professor Penrose is the recipient of numerous awards and honours, including the 1988 Wolf Prize for physics, shared with Stephen Hawking for "their brilliant development of the theory of general relativity, in which they showed the necessity for cosmological singularities and elucidated the physics of black holes", and the 2008 Copley Medal "for his beautiful and original insights into many areas of mathematics and mathematical physics...most notably for his work on black holes and the Big Bang."
Sir Roger is Emeritus Rouse-Ball Professor of Mathematics at the University of Oxford. He was elected a Fellow of the Royal Society in 1972, knighted for his contributions to science in 1994, and appointed to the Order of Merit in 2000.
As usual, refreshments will be available in the foyer outside the lecture theatre from 3:30 pm and there will be a wine and nibbles reception after the lecture. The lecture is aimed at a broad audience. Colleagues, students (undergraduate and postgraduate) and friends are all welcome to attend.
For futher information see the Barkla Colloquium webpage.