Our people
The Materials Innovation Factory Team draws together world-leading research academics with a technical support team whose expertise and capabilities are directly matched to the equipment portfolio found in the Open Access Area.
Directors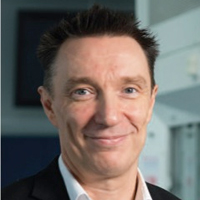 Andy Cooper
Professor Andy Cooper obtained his PhD from the University of Nottingham in 1994. His main research interests include polymers, porous materials, supramolecular chemistry, and high-throughput materials methodology – he is the Academic Director of the Materials Innovation Factory. He was elected a Fellow of the Royal Society in 2015. Read more
Simon Longden
Simon graduated with a Masters and an Engineering Doctorate (EngD) from UMIST in the early 2000s. In 2002, Simon began working for the University of Liverpool's MerseyBio Life Sciences Incubator supporting commercial enterprises and start-ups around Merseyside. Simon headed 'Business Gateway' and 'Liverpool IP' from 2009 to 2014 and was then appointed the Managing Director of the Materials Innovation Factory in August 2014.