LIV.DAT student Phillip Marshall passes PhD viva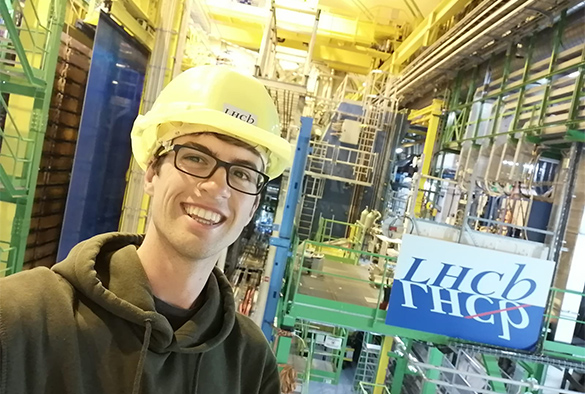 LIV.DAT student Phillip Marshall has successfully defended his PhD thesis and passed his PhD viva to become Dr Phillip Marshall.
The focus of Phil's PhD was the development of a new, machine learning based, particle tracking algorithm for the LHCb VELO detector upgrade; where increases in data rate caused by real-time event reconstruction will put pressure on existing tracking techniques. The VELO, or Vertex Locator, is a tracking detector that surrounds the proton collision point at LHCb. It is formed of layers of Silicon pixel sensors. Particle hits in the sensors must be joined into tracks to understand the trajectory of particles in the experiment. Machine learning methods are potential candidates for processing the enormous datasets of future high-energy physics experiments because they can be executed very quickly on parallel processors, even more so using dedicated hardware such as FPGAs.
Phil said "One of the most enjoyable things about my time was the chance to communicate my work with others, whether they be fellow students, academics or members of the public. I was also privileged to live and work in some amazing locations and have met fantastic people wherever I have been. There were plenty opportunities for outreach, which I did not expect to enjoy as much as I did, especially talking to school children about physics and machine learning."
This summer Phil has started training to become a guard on Merseyrail trains in Liverpool, following his life-long ambition to work on the railways, which he feels he could not have achieved without the increase in his confidence and communication skills which he has gained from the last 4 years while undertaking his PhD.