LIV.DAT Advanced Researcher Skills School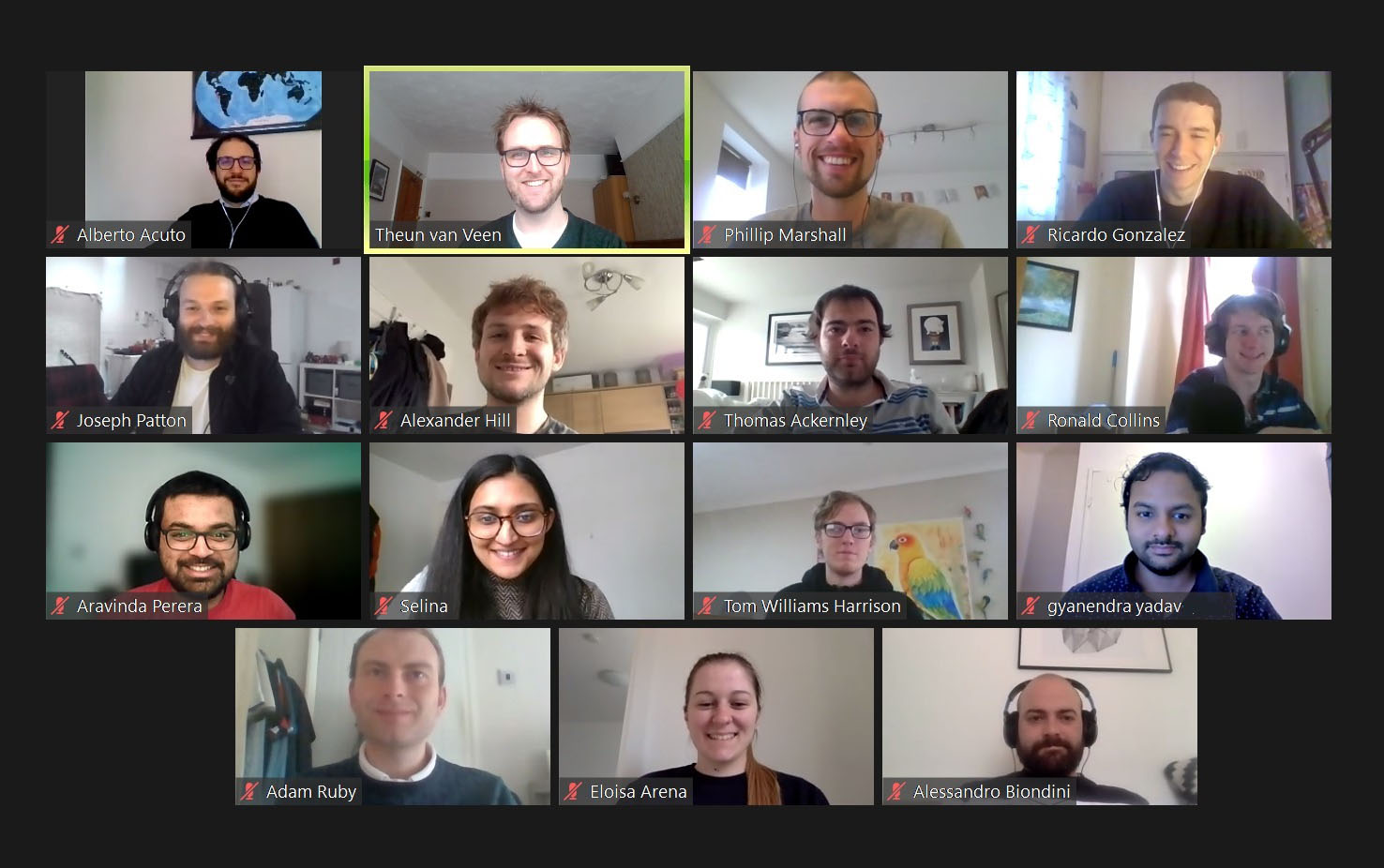 LIV.DAT students who started their PhD with the CDT in 2017 or 2018 joined the Advanced School on Research Skills Training. The 4-day long event was held online between 22-25 March 2021 using videoconferencing tool Zoom. This intense School aimed at preparing them for their future career, whether that would be in industry or academia.
The first day of the school kicked-off with an introductory talk by LIV.DAT Director Prof Carsten Welsch. This was followed by a session on "Career Perspective for Physics Students" by career consultant Dr Alexis Nolan-Webster. The rest of the morning and first part of the afternoon was dedicated to tips and tricks for successful writing of a CV, based on examples submitted by the LIV.DAT students. This engaging session was provided by career and leadership coach Clare Tweedy (Anderson Yorke Associates) who continued on Tuesday morning where she delivered training on job interview skills. Here, the students also had the opportunity to practise their skills in smaller breakout groups. To give the students an insight in what it takes to bring an idea to market, invited speaker and Enterprise Fellow Mohammed Belal (STFC) then shared his experience on what is required to setup a spin-out company on the basis of his own experience.
The Wednesday saw three different sessions focussed on skills that are very relevant to (graduate) physics PhD students. An introduction into grant writing was provided by Prof Welsch where he concentrated on how to write competitive grant applications and funding opportunities. The participants then joined a session on project management where Project Manager Dr Ricardo Torres provided an overview of (key) aspects to deliver a successful project. A newly developed training on computing skills, designed by LIV.DAT Fellow Dr Egidijus Kukstas, addressed examples of good and bad practises in software development, and highlighted computing skills that help increase productivity. Together, these engaging and thought-provoking sessions facilitated excellent discussions.
On Thursday, the final day of the school, a careers workshop showed the participants the diverse opportunities available to researchers on the job market. Invited speakers presented a personal insight into their own careers and the challenges they faced, as well as giving an overview about their current role. This day provided an excellent opportunity for the LIV.DAT students to discuss aspects of career planning in various sectors.
Amongst the career pathways that speakers covered, were
the academic sector, highlighting the various challenges that have to be met by any researcher wishing to pursue a university career;
manufacturing and the role big data scientist can play;
R&D in industry focussed on computing, graphics and AI;
secret services;
acquisition and management of health data;
R&D in nuclear facilities;
data analyst in the consumer industry.
As with any training event, social interactions form a valuable part of the participation. With the School taking place online, a few smaller social activities were organised. This not only formed a basis to get to know each other and the LIV.DAT team a bit better in this period of remote working, but also helped to wind down at the end of the day. These activities included informal discussions in small groups (breakout rooms) relating to LIV.DAT relevant topics (e.g. placements) as well as quizzes about the LIV.DAT Management Team and students themselves.
Prof Carsten Welsch who developed the training concept as part of Initial Training Networks he coordinated (e.g. LA3NET, OMA), said: "During these four days, we focused on the specific skills that researchers need in order to be successful in their work – independent on whether they target a career in academia or industry. The School gave many opportunities to discuss different career avenues, the challenges researchers find in different sectors, and to reflect on how the students can use the skills that they have now developed within LIV.DAT to boost their employability."
Special thanks go to the Liverpool staff members who contributed to the training and the Project TEAM for their help in the organization!
Presentations can be found on the event webpage.