The Low Surface Brightness Universe as seen by LSST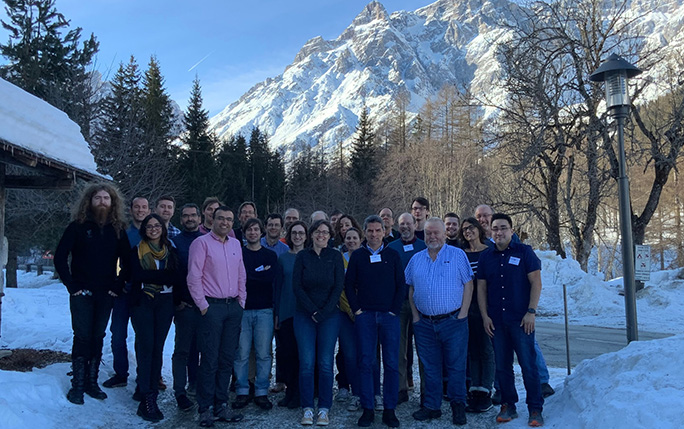 During the first week of February 2020, the low surface brightness (LSB) community of the LSST project assembled at the Bad Moos hotel in Sexten, Italy. LIV.DAT student Brandon Kelly was in attendance in order to promote his own research as well as engaging with the wider LSB community within the LSST project. The purpose of the meeting was to discuss the data processing and ease of access to data products when the telescope comes online and begins taking images in 2023 specifically how the data processing may be adjusted to allow for preservation of low surface brightness signal. Each day consisted of talks in the morning, followed by a long discussion session in the afternoon which gave the conference a more relaxed feeling and allowed for some in depth discussion to the benefit of both early-career researchers and senior academics alike.
Focus on the first day was devoted to the operation of the telescope itself. Robert Lupton, who is in charge of the data processing side of the project gave an in-depth overview of the current plans for the data processing side of the Vera Rubin Observatory's Legacy Survey of Space and Time (LSST). The discussion surrounding this talk covered seemingly every conceivable aspect of image processing from photons leaving the source to appearing on your own monitor. The difficulty in this particular discussion revolved around the fact that Lupton was speaking as someone who has to appease all of the science collaborations within the LSST project. Low surface brightness signal is overlooked to a large extent by most other surveys so the opportunity to put forward such a coherent data processing wish-list to someone with such influence was invaluable to future LSB science with LSST.
During the Intra-Cluster Light (ICL) session Brandon presented his preliminary data processing pipeline ICICLE (Iterative Computational Intra-Cluster Light Extraction). The benefit of presenting at this conference, as opposed to the more typical format, was that following the talk it was not just the audience asking questions of the speaker but engaging in genuine debate surrounding the topic presented in the wider context of the field. For an early career researcher such as Brandon this provided an excellent space for new ideas and inspiration for the project moving forwards.