STFC Summer School for Particle physics held at Durham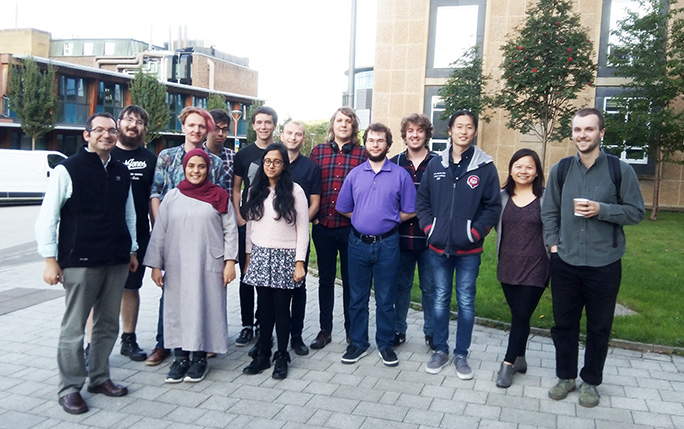 The annual STFC summer school for particle physics took place in Durham between the 1st and 13th September 2019. The school, which is an annual event, brings together all experimental particle physics students in the 1st Year of their PhD to undergo intense courses resulting in a good understanding of basic theoretical ideas of the Standard Model.
Over the two weeks, students attended lectures and problem classes covering various aspects of theoretical physics such as Quantum Field Theory, Quantum Electrodynamics and Phenomenology. Each day began with detailed lectures on each subject presented by leading physicists in their field. In the afternoons, students were provided problems to work through during private study hours before writing their thoughts on whiteboards in tutorial sessions.
In addition to the usual day-to-day commitments, students were also expected to take part in an evening poster session, showcasing their PhD projects and work so far to other students and researchers. On the Sunday there was also an opportunity to 'Quiz the Theorist' with any burning questions that students may not have had the chance to ask otherwise.
The two-weeks were rounded off with a formal dinner which took place in the historic and vibrant Georgian Dining Hall located in Durham's second oldest college, Hatfield college, where the winner of the poster competition was announced.
Eleven STFC funded University of Liverpool students, including LIV.DAT students Adam Ruby and Ricardo Gonzalez Lopez, attended this year's event as well as academic Dr Nikolaos Rompotis who served as a tutor in both weeks. Adam Ruby, a Liverpool LIV.DAT student who attended said, 'I took some time away from physics before starting a PhD and so the summer school, which recapped the most important details of theoretical particle physics, helped a lot. Being introduced to students from different universities on the same collaboration for the first time was also beneficial as I'm sure we will all spend a lot of time with each other again once our long term attachments begin".
The STFC summer school began in 2008 and each year attracts record numbers of particle physics PhD students. The school, which is now housed at the University of Durham for the next two years, was deemed a success and a fantastic start for each student as they progress through their PhD.