Importance of data science showcased at international Symposium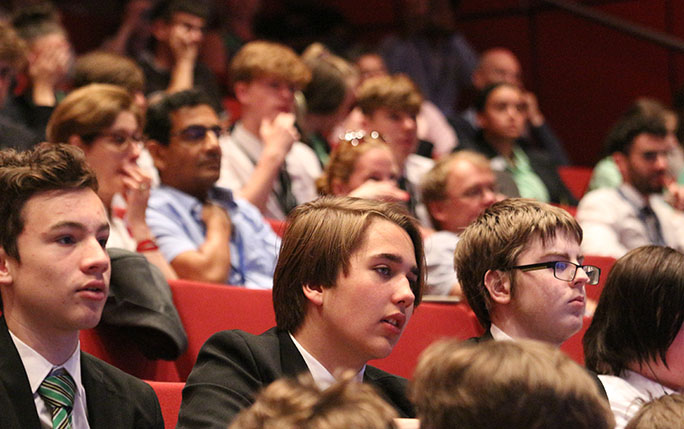 Particle accelerators have numerous applications across many fields including fundamental research, healthcare, electronics, environment and energy but, despite the significant role that accelerators play in our daily lives, the field of accelerator science and technology remains largely unknown to most people.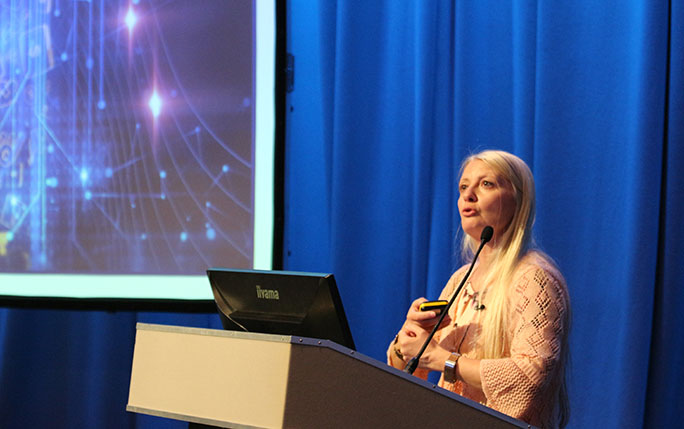 Leading researchers presented talks on a range of topics from big data to cancer treatment.
An international Symposium 'Accelerators for Science and Society' that took place at the Liverpool Arena and Convention Centre on Friday 28 June 2019, aimed to inspire students with the possibilities of this rapidly evolving field and provided insight into the economic, scientific and societal benefits of particle accelerators. The event was hailed a great success with delegates comprising of 100 researchers from across Europe and 150 students and teachers from local high schools.
Renowned speakers such as Dr Simon Jolly (UCL) and Dr Michael Doser (CERN) provided a unique insight into how particle accelerators are used for cancer treatment and antimatter research. Prof Maria Fasli (University of Essex) gave a talk about the Power of Data and how data science is now impacting on everyone's life.
LIV.DAT students developed interactive demonstrations specifically for this event.
In addition, international best-selling author and educator Curtis Jobling highlighted the importance of art and thinking creatively alongside studying STEM subjects and how this combination drives innovation across society.
All talks were live-streamed to institutions across Europe and are now available to watch via the event website.
The event was coordinated by LIVDAT director Prof Carsten Welsch who also leads the H2020 Marie Skłodowska-Curie training networks AVA and OMA which are behind the event.
Early stage researchers from all three training initiatives presented their research in the form of posters and gave young delegates the opportunity to experience science up close through a number of interactive demonstrations that the scientists developed specifically for this event.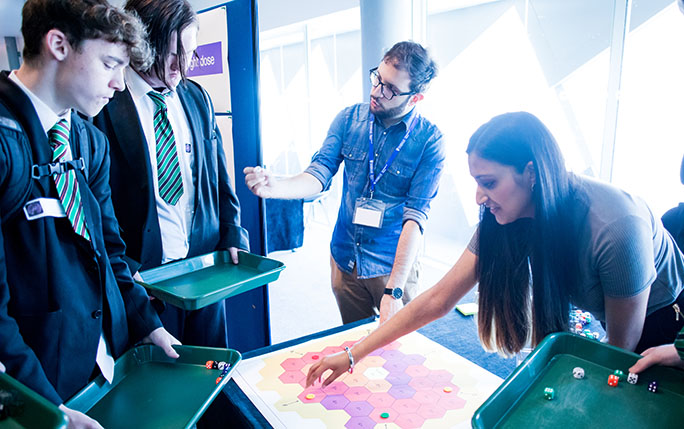 Young delegates had the opportunity to experience science up close.
Professor Welsch said: "LIVDAT has been training the next generation of data scientists since 2017 and continues to produce a pipeline of experts that go on to work around the world in both academia and industry. It is fantastic to see the outstanding research results that have stemmed from our three most recent training initiatives and how our Fellows engaged with the next generation of scientists and engineers at the Symposium.
The speakers provided an excellent overview of the many applications that particle accelerators have made possible in our everyday lives and in particular of how the use, handling and analysis of data impacts on science and society."
More information and all talks can be accessed via the event homepage.