Writing Science for Children/Escribiendo Ciencia para niños
Are you entering the SRUK (Spanish Researchers in the UK) 'scientific stories for children' contest? Stuck for inspiration? Then check out the ideas and prompts below. They are based on some of the greatest science writing for children of all time -- as chosen by the University of Liverpool's English Department.
¿Participas en Ciéncia-me un cuento, el concurso de cuentos científicos infantiles de CERU (Científicos Españoles en Reino Unido)? ¿No te viene la inspiración? Entonces, échale un vistazo a las ideas de esta entrada, basadas en algunos de los mejores escritos científicos para niños de todos los tiempos, escogidas especialmente por el departamento de inglés de la Universidad de Liverpool.

Science by Nick Youngson CC BY-SA 3.0 Alpha Stock Images
Solve the Mystery/Resuelve el misterio
Lucy and Stephen Hawking's George and Annie books combine scientific facts with the sorts of problem-solving narratives normally found in a detective stories or children's mysteries like Enid Blyton's 'Famous Five' tales. Is there a scientific 'mystery' or 'code' the protagonists could solve in your story?
Los libros La clave secreta del Universo de Lucy y Stephen Hawking combinan hechos científicos con la resolución de problemas de la narrativa típica de las historias de detectives o de misterio, como, por ejemplo, en Los cinco de Enid Blyton. ¿Hay, en tu historia, algún código o misterio que los protagonistas puedan resolver?
Re-tell a timeless tale/Vuelve a narrar una historia de toda la vida
Sometimes the best stories are in fact retellings of old ones! Ted Hughes's classic The Iron Man adapts the story of St. George and the Dragon to offer a parable aboput humanity's relationship with technology. Russell Stannard's 'Uncle Albert' books use ideas and scenarios from Alice in Wonderland (itself inspired by science) to explain quantum physics. Is there a well-known story or fairy-tale which could be re-told or borrowed from in order to explain scientific principles?
A veces, las mejores historias son sólo versiones de las antiguas. En el clásico El hombre de hierro, Ted Hugues adapta la historia de San Jorge y el dragón para ofrecer una parábola sobre la relación de la humanidad con la tecnología. Y Russell Stannard, en sus libros del tío Alberto, usa ideas y escenas de Alicia en el país de las maravillas (ya a su vez inspirada en la ciencia) para explicar física cuántica. ¿Hay alguna conocida historia o cuento de hadas que puedas tomar prestada o reescribir para explicar principios científicos?
Write a letter (or a Twitter Exchange!)/Escribe una carta (¡o un hilo de twitter!)
Simon James's Dear Greenpeace (1991) is a great example of epistolary writing for children, and draws upon a dialogue tradition that goes back as far as Plato. Perhaps your story could consist of an exchange of ideas between a scientist and non-scientist? This could take many forms: letters, text messages, blogposts, social media bickering etc. etc.
Querido Greenpeace de Simon James es un magnífico ejemplo de narrativa epistolar para niños que recurre a algo tan tradicional como el diálogo, que se remonta hasta Platón. A lo mejor, tu historia podría consistir en un intercambio de ideas entre un científico y un no-científico. Lo puedes hacer de diferentes formas: cartas, mensajes de texto, blogs, discusiones en redes sociales…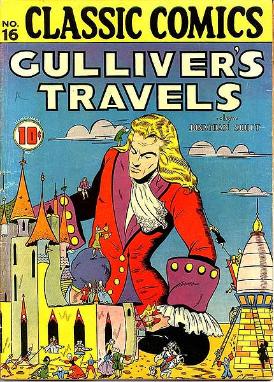 Source: Wikipedia Commons; cc no 16 Gulliver's Travels
Make things strange/Dale la vuelta a las cosas
Whilst Jonathan Swift's intentions were parodic rather than pedagogical, his Gulliver's Travels (1726) – written for both adults and children – contains some brilliant engagements with science. In particular, Swift uses science and technology to 'defamiliarize' the everyday. Such moments include when Gulliver, in the land of the giants, becomes a kind of human microscope, and describes the magnified perspective he has of this gigantic world. Are there ways in which your chosen science could defamiliarize the everyday, and in so doing show us why it is important?
Mientras que la intención de Jonathan Swift era parodiar más que educar, sus Viajes de Gulliver, escritos tanto para niños como adultos, contienen unos encuentros brillantes con la ciencia. Particularmente, Swift usa la ciencia y la tecnología para desfamiliarizarse del día a día. Entre los momentos que se incluyen está cuando Gulliver, en el país de los gigantes, se convierte en una especie de microscopio humano y describe su perspectiva aumentada del mundo gigantesco. ¿Hay alguna manera en que tu ciencia se pueda desfamiliarizar del día a día? ¿Y sí es así, nos puedes enseñar por qué es importante?
Create a colourful character?/Crea un personaje llamativo
Beautifully illustrated, Dominic Walliman and Ben Newman's 'Professor Astro Cat' books are non-fictional but narrated by the colourful character of Astro Cat. Is there a quirky, instantly-appealing character (animal, mineral or vegetable!) that you could create who could be a mouthpiece for scientific ideas or the narrator of your story?
Los libros del Profesor Astro Cat, de Dominic Walliman y Ben Newman, son de no-ficción pero narradas a través del llamativo personaje de Astro Cat. ¿Hay algún personaje atractivo (tanto animal, vegetal como mineral) que puedas crear para que sea tu portavoz de las ideas científicas o el narrador de tu historia?
6. Write a life/Escribe una vida
Stephanie Sisson, Star Stuff: Carl Sagan and the Mysteries of the Cosmos (2014) is a biography of the famous cosmologist written especially for children. Would telling the life of a famous scientist be the best way to communicate your science?
Polvo de estrellas (Carl Sagan y los misterios del cosmos), de Stephanie Sisson, es la biografía del famoso cosmólogo escrita especialmente para niños. ¿Puede ser que escribir la vida de un famoso científico sea la mejor manera de comunicar tu ciencia?
GOOD LUCK! WE ARE REALLY LOOKING FORWARD TO READING YOUR ENTRIES
¡Buena suerte! Estamos ansiosos por leer vuestras entradas
The Literature & Science Hub would love to hear from you, especially if our ideas have been useful to you, either in relation to the competition or more generally. Please email us:
Nos gustaría saber de vosotros, especialmente si nuestras ideas os han sido útiles, tanto en relación a la competición como en general. Escríbenos a:
gjlynall@liverpool.ac.uk or s.solnick@liverpool.ac.uk