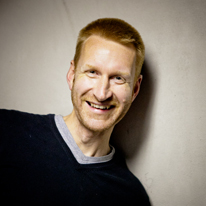 Dr
Kris
D'Aout
PhD, etc.
Senior Lecturer
Musculoskeletal & Ageing Science
Teaching
About my teaching
I'm delivering (and enjoying!) undergraduate as well as postgraduate teaching.
At the University of Liverpool, I run a course "The Body in Motion: Musculoskeletal Performance in Health, Performance and Disease" and I teach in several courses for the School of Life Sciences, the School of Engineering and Medical School (Musculoskeletal Block and Research & Scholarship projects). I am the external examiner for the MSc programme in Human Anatomy and Evolution at Hull York Medical School.

Students - please don't hesitate to get in touch with me if you have any academic or pastoral questions. If you can't catch me after the lecture (or on Teams in the current situation), please just drop me an email.

Modules for 2021-22
AGEING OF THE INTEGRATED MUSCULOSKELETAL SYSTEM
Module code: CIMA001
Role: Teaching
Advanced Human Topographical Anatomy
Module code: LIFE349
Role: Teaching
CLINICAL SCIENCES RESEARCH PROJECT 1
Module code: MCMR005
Role: Teaching
CLINICAL SCIENCES RESEARCH PROJECT 2
Module code: MCMR006
Role: Teaching
Communication and Study Skills for the Life Sciences
Module code: LIFE130
Role: Teaching
Functional Anatomy of the Human Locomotor System
Module code: LIFE219
Role: Teaching
MUSCULOSKELETAL BIOMECHANICS
Module code: ENGG410
Role: Teaching
RESEARCH FRONTIERS IN CLINICAL SCIENCES 2
Module code: MCMR004
Role: Teaching
THE BODY IN MOTION: MUSCULOSKELETAL FUNCTIONING IN HEALTH, PERFORMANCE AND DISEASE
Module code: LIFE335
Role: Module Co-ordinator