About the light under the Spanish sun
The LA³NET Fellows Andreas Döpp and Luca Stockhausen contributed recently to the 11th National Optics Meeting (Reunión Nacional de Óptica). The meeting is organised regularly in Spain and aims to provide the opportunity for linking all researchers working in the field of optics in the country. This year it was held in Salamanca and was followed by a celebration of the Day of Light. The event covered different topics related to optics, such as vision sciences, colour, spectroscopy, quantum optics and nonlinear optics, optoelectronics and imaging techniques.
Andreas contributed with a talk on "Electron rephasing in a laser-plasma accelerator" and Luca presented a poster on "Laser-driven ion acceleration from ultrathin targets". Both Luca and Andreas have developed their research projects during LA³NET fellowships at The Spanish Lasers Centre in Salamanca for the last three years.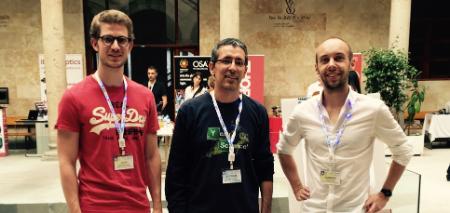 From the left: Luca Stockhausen, Dr. Enrique Conejero Jarque (LA³NET Steering Committee member) and Andreas Döpp.