Human Trafficking and Unfree Labour Research and Networking Event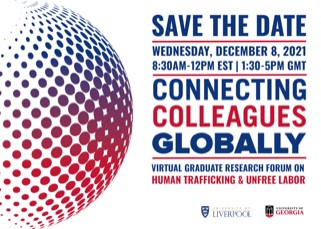 On the second Wednesday in December 2022 the University of Liverpool is hosting a virtual networking and poster event with international partner, the University of Georgia.
This event will bring together scholars from both nations to stimulate research on the immensely influential topic of Human Trafficking and Unfree Labour. Created with the assistance of current Uni of Liverpool PhD student Oliver Kennedy, postgraduate students and early career researchers are invited to share their knowledge on a platform chaired by senior academics and created to support innovative research, encourage international collaboration, and establish a network for future partnerships.
Participants will engage in 'Research Dialogues' where they have the opportunity to present their research and participate in a dialogue about their objectives and methodologies. These conversations will provide crucial feedback and assist in the continued development of young scholars from varying backgrounds. In addition, this collaborative event will host thematic breakout sessions focused on topics including slavery, human trafficking, and unfree labour, in which? participants are encouraged to further delve into critical aspects of this influential study.
This forum will therefore work to advance the study of Human Trafficking and Unfree Labour research through the support and stimulation of current initiatives presented by a collective of scholars from both the United Kingdom and the United States. The creation of a strong network for information sharing will work to advance the participant's individual research as well as the field of study more generally, providing invaluable support and encouragement to continue shedding light on this on this critical subject.